2 Aug 2015
#ScintillatingSunday Excerpt from Bad Kitty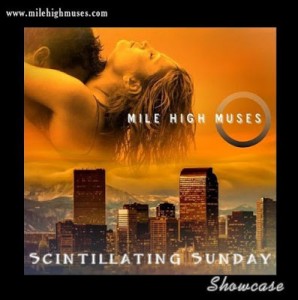 1.
animated; vivacious; effervescent:
a
scintillating
personality.
2.
witty; brilliantly clever:
a
scintillating
conversationalist;
a
play
full
of
scintillating
dialogue.
My friends at Mile High Muses have started Scintillating Sundays, a blog hop designed to entertain readers as they chill at home on a lazy Sunday. It's a simple premise: each participating author posts 8 paragraphs we feel embody the word "scintillating" and you get to hop from blog to blog, reading them all.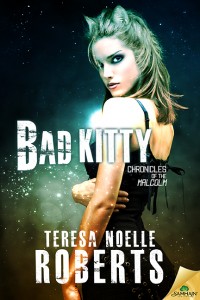 My selection is from Bad Kitty, the second book in my Chronicles of the Malcolm science-fiction romance series, due out 9/22. Enjoy! And when you're done, please visit the other authors:
The flyer's door opened. Two heavily armed people who looked like bodyguards stepped out—one a human, the other a Xylac, obvious from his horns. Body armor, Mae-90 personal power laser guns, the works.
In contrast, the person who exited the flyer next was unarmored and unarmed.
Make that the person who slinked out like a holo star. Most people looked awkward getting out of a flyer. This one led with his pelvis and his long, lean, leather-clad legs, then unfolded and opened his arms. "Drax Jalfricki!" he exclaimed. "Welcome to my hellish little paradise. Don't mind the idiots with explosives. Eventually they'll learn better. Either that or they'll die. Entertaining either way."
"Rahal, you're right on time and right up to your ear tips in trouble, as usual."
"Of course I'm on time. I wouldn't want to keep my brother waiting. As for the trouble…" He shrugged, a lovely motion that set the muscles in his broad, bare chest rippling.
"It runs in the family." Both men laughed.
Xia drew in a sharp breath.
This guy wasn't Drax's actual-factual brother, though he was even more spectacularly good-looking than the Banjali. A woman might die from all the excess of masculine beauty. (A quick glance suggested Mik and Gan might also be in danger. They were devoted to each other, but they weren't blind.)
Rahal, Drax's "brother", was a felinoid.
Buy Links: Samhain / Amazon US / Amazon UK /Kobo / Barnes and Noble / All Romance Ebooks