19 Sep 2015
"One Sexy Boy"–Actually Two of Them–for My Sexy Saturday Blog Hop
This week's theme on the My Sexy Saturday blog hop is "One Sexy Boy." (Be sure to check out all the participants. There's a full set of links at the bottom of the post if you want to read mine first, which I hope you do.) My science fiction romance Bad Kitty features two sexy heroes for my lucky heroine Xia to love. After all, she's a felinoid, a catlike alien, and felinoids spells monogamy as monotony!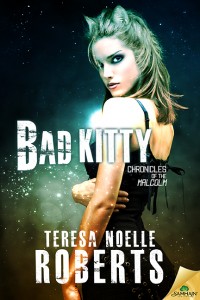 I've offered a few previous glimpses of her felinoid hero, Rahal. Here's her first look at their human sexy boy. She's just met him a way that could be awkward even for an uninhibited cat-girl: he walks in while she and Rahal are getting frisky. Luckily the handsome stranger introduced as arms dealer Karn the Viking isn't averse to getting frisky himself. His reasons are more complicated than simply having a high sex drive, low inhibitions and a desire for the two attractive felinoids. But for now, it looks like good, clean dirty fun all around…
The man with the sexy voice chuckled. "I'll make myself comfortable. That is, if the lady doesn't mind. Never pays to piss off a woman with claws."
Xia craned her neck and found herself looking into a pair of very blue human eyes as the two-o'clock appointment settled himself on a cushion, long legs folded under him. "Oh no," she said with a purr. "The lady doesn't mind at all. Pretty-pretty must be in season on this planet."
"Just got here yesterday," the man said, sounding an adorable combination of aroused and embarrassed. "Maybe the season came with me."
The embarrassment was endearing, especially since he didn't look like someone who'd get embarrassed by much of anything. This human—tall and buff with neat, short white-blond hair and wearing a long coat of tan leather and skintight pants in the same shade—was almost as tastily tough as Rahal. Her cunt clenched around Rahal at the thought of the stranger being an audience.
A participant would be even better, but humans weren't always that easygoing about sex. And while she and Rahal had clicked instantly on many levels, she didn't want to push him by inviting the guy to play too. Too much was riding on her bargain with the warlord.
But she didn't need to worry about that. "Space is a cold, lonely place, Viking," Rahal said. "If you want to warm yourself, just ask. I won't speak for Xia and she can veto me, but I always figure the more the merrier."
Well, that solved the etiquette dilemma! Xia nodded and beckoned. The human let out a strangled moan and crawled closer.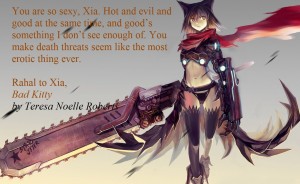 Blurb and more book info:
When you make the Devil's bargain, be prepared to take the heat. A lot of heat.
Most of Xia's early memories are repressed, thank the Great Cat Mother. But her body remembers how to kill.
The longer she and her fellow Malcolm crewmates are holed up on Cibari hiding from assassins, the twitchier she gets—until the planet's insanely sexy Warlord, Rahal Mizyar, borrows her skills to take out slavers.
Rahal suspects Xia is his mate, but the human-raised female never learned the finer points of felinoid rituals. The solution: make her fall hard and fast for him, even if it means playing dirty.
Hired to determine if Xia is the long-missing granddaughter of the felinoid prime minister, Cal Janssen has finally tracked her down. Getting past Rahal, though, is a problem—until he's mistaken for a notorious arms dealer and playboy. And he finds himself the object of both Rahal's and Xia's seduction.
When their first mission brings Xia's memories bulleting back to the surface, she realizes she's fallen for two men who don't exist. Running away, however, could be her deadliest mistake.
Product Warnings
Contains an assassin with a swiss cheese memory, a badass warlord who's getting tired of his own con, and a freelance lawman. Secrets, lies, and hot sex with no rules.
Buy Links: Samhain / Amazon US / Amazon UK /Kobo / Barnes and Noble / All Romance Ebooks
Be sure to visit all the other Sexy Saturday participants!
And check out my release-day Facebook party for more sexy snippets, prizes, and visitors from guest authors galore!