21 Sep 2014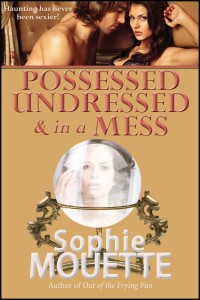 Today's Masturbation Monday offering is another excerpt from Possessed, Undressed, and in a Mess, by my coauthoring alter ego Sophie Mouette. It seems this book has more than its share of sexy solo bits. (Yes, I know it's not Monday yet, but I'm self-employed, so Monday and Sunday are kind of the same.)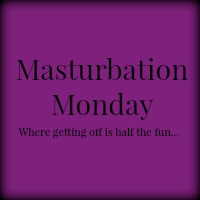 By the way, I hated cutting out the paragraphs that framed this snippet of yummy smut, but they'd give away important plot details, and the book will be so much more fun to read with the mystery/crime-caper element intact. It's not all sex, much as you might think so from the recent bits I've posted. (In fact, we describe it as a "spicy" romance rather than an erotic one. The sex scenes are numerous and hot, but the story doesn't center on the hero and heroine's sexual journey. Not with ghosts, criminals, and other crazy stuff distracting them!)
Blurb: A séance gone wildly wrong leaves hotelier Angela Georgenes sharing her body with a randy Victorian ghost. Someone's after a treasure allegedly hidden in the hotel and the ghost wants to tell Angela - but can only communicate when Angela's on the verge of orgasm.
Talk about awkward.
Angela - and the ghost - are both hot for new handyman Tyler Woodruff, but is he a knight in a shining pickup or the thief? In truth, he is there under false pretenses: he's a fortune hunter who liberates unappreciated artifacts. Distracted by Angela's wicked imagination and uninhibited bedroom antics, he doesn't want to fall in love with her any more than she does with him.
But admitting their true feelings is the only way the ghost can reveal the nature of the treasure–and the real threat.
Excerpt:
Well, [Tyler] could see Angela or Kari having an issue if he poked a hole in a wall without a damn good excuse. And to be honest, he truly didn't want to cause any sort of permanent damage to Angelika. She was a beautiful building, with a sweet resonance.
Not unlike one of her owners. Kari was a cute thing, but it was Angela who attracted him. Something about her mane of ebony curls and those dark, mysterious eyes. A guy could get lost in those depthless pools.
Not to mention the way her nipples perked against that silky camisole she'd been wearing that afternoon, so responsive when he touched them.
How she'd moaned, shifted against him, met him kiss for desperate, wild kiss.
His jeans were getting uncomfortably tight. Tyler shook his head, trying to dislodge the distracting thoughts of the alluring Angela.
He had a job to do.
But no matter how hard he tried to concentrate, his mind—and body—kept circling back to images of her. The feel and taste and smell of her.
Okay. Fine. He knew the drill. If you couldn't focus because someone was distracting you, you took care of the distraction.
He stood and popped the buttons of his jeans. His cock sprang free from its confines, and he sighed with relief. He wiggled out of the jeans and kicked them in the general direction of the sort-of laundry corner.
There was a bottle of lotion on the bureau, lime green and shaped like a woman in a floor-length, poofy skirt. He winced before he even opened it, imagining the scent. It was, as expected, cloyingly flowery, but oh, well. Short of heading back into the shower (which would involve stuffing himself back in his jeans, a prospect that, despite the sickly-sweet lotion, was growing increasingly unlikely), this was his only option.
Tyler moved the paperwork to the floor in careful stacks, lay back on the bed, and covered his palm with lotion. He pressed his hands together for a moment, warming the cream, and thought of Angela.
His cock jumped before he even touched it.
Her hair, he thought as he began to stroke, would trail across him, silken strands slithering across his chest and belly. She'd skip over his cock to tease him, brushing against his thighs, before taking pity on him and moving up to twine her locks around his shaft, the ends tickling his balls. When she pulled away, there'd be a drop of pre-come glistening at his tip, and she'd swipe it up with her tongue.
Closing his eyes, he imagined her pink tongue darting out to lick him, and he smeared his thumb over the pre-come at the head of his cock.
She'd already be wet, because they would have been playing for a while. Her juices would be drying on his chin, their scent still lingering, adding to his arousal.
A sultry smile would play on her red, lush lips as she straddled him. Promise would sparkle in her midnight eyes. She'd tease again—she'd be like that—rubbing her wet pussy against the crown of his cock.
Tyler followed suit with his own fingers, lost in the fantasy.
She'd slowly sink down on him, and when she reached the bottom, her eyes would flutter shut. He'd reach up and play with her nipples, lightly at first, then harder, tweaking them and toying with them as she got closer to orgasm. She'd post up and down, faster, and as her climax washed over her she'd grind down, clenching and fluttering against him.
He squeezed himself harder, his fist moving faster as he cupped his balls in his other hand, feeling them tighten as he got closer himself.
She'd lean over then, rubbing her nipples into his chest as she kissed him. She'd try to tease him some more, but he'd be having none of that. He was too close. He'd urge her back up, orchestrate her movements with his hands firmly on her hips. When she felt him swell, just before his release, her eyes would widen and her mouth would open, and she'd cry out and come again, writhing against him as he shot into her.
He must have blacked out for a second, because the next thing he was aware of was knocking at the door.
"Mr. Woodruff? Everything all right in there?"
His tongue was dry, and it took him a moment to call out, "I'm fine, Mrs. Parsons."
*
Intrigued? You can get the book, in both paperback and ebook formats, from all your favorite retailers by clicking below.
Amazon / Amazon Kindle / Barnes & Noble / Kobo /Smashwords
Sophie's dedicated website is, not surprisingly, www.sophiemouette.com. Follow her on Facebook: www.facebook.com/sophiemouette, or on Twitter: @SophieMouette
More sexy #MasturbationMonday links here: http://masturbationmonday.kaylalords.com/masturbation-monday-week-3/