19 Dec 2015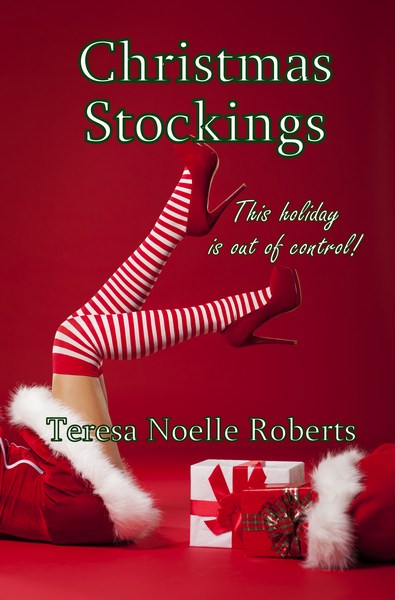 I'm apparently ending 2015 in the same way I've spent most of it: behind on everything and trying frantically to catch up. Consider this post part of my catching up efforts. I released a holiday novella, Christmas Stockings, earlier this month, but I haven't added it to this site yet! So when the My Sexy Saturday blog hop said this week's theme was Our Sexy Holidays, I knew I had to "hop" in.
This sexy novella features Jen and Drake from Out of Control getting kinky–after surviving a holiday party from hell. Warning: Academic obtuseness, artistic obsessions, glass-blowing metaphors, a lot of color-coordinated rope, a little pain-play and a pair of incendiary stockings.
Seven sexy sentences to give you a taste of the story.
Jen hiked up her skirt and slithered the tiny thong down over her ass. Drake studied her every move. How could the gray of his eyes looked that heated? She'd been trying ever since she met him to figure out that implausible tone shift, but usually the fevered look and even hotter actions that followed it broke her down before she could get very far. Tonight was no exception.
She was bent over, the panties halfway down her thighs, when Drake stalked in behind her. One hand gripped the hair at the back of her neck, tugging her upright.
---
This Christmas is out of control!
Reconnect with Jen and Drake from Out of Control in this standalone short holiday novella.
Artist Jen's striped holiday stockings factor in her mathematician husband—and Dominant—Drake's equation for a delightfully kinky evening. What goes better with striped stockings than a striped ass, after all?
But first they have to survive Jen's first faculty black-tie holiday party.
Jen, with her wild hair and wilder stockings, doesn't mind standing out. But she's not so crazy about standing out as the only person at the party without a college degree. Accomplished artist or not, that'll raise eyebrows in academia. She doesn't want to reflect badly on Drake, but she's also not about to let snobbery go unchallenged.
Who knew going commando except for a garter belt could give a submissive the courage she needs to be herself in an uncomfortable environment—at least with her hot Dominant by her side?
And who knew the rewards for becoming the unlikely toast of the Mathematics Department party would be just what Jen wanted for Christmas?
---