17 Nov 2014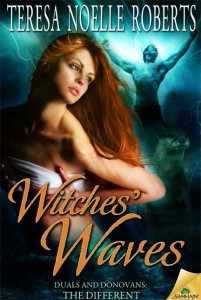 "Uncle Deck? You've got people here to see you."
He looked up and saw the last person on earth he'd ever expected to see again, holding the arm of a ghost-pale, blonde girl.
Deck sifted frantically through his brain, trying to find the right words or, failing that, any words at all. "What are you doing here after I sent you away?" popped into his head but it wasn't right because he meant something more along the lines of "How did you know I didn't mean it, that I just needed more time?"
Elissa solved the problem of what to say by shouting in something very unlike her usual would-be-sultry-if-she-wasn't-his-cousin voice, "You!" pointing her finger at the interlopers like a character in a silent-movie melodrama.
"I see you've met Kyle," Deck said drily. "He has that effect on people."
As the accusatory voice vibrated through Meaghan's bones, she felt a seizure coming on. "Lay me down," she whispered urgently, but Kyle was already easing her onto the grass. To her dismay, someone else—someone who was probably the woman who yelled at her, because those hands were small, though strong and calloused—was helping.
The vision surged over her, and for the first time she knew what it felt like: like being sucked under by a great wave, with no hope of rescue. The ocean frightened her less, though. The ocean might have killed her, but it loved her at the same time. This just hurt.
Her body arched. Her hair stood on end. The stench of blood and a child's panicked cries filled her brain. But for some reason, it wasn't as bad as it normally was, not as painful, not as all-encompassing. She was still herself inside the vision, retaining some control.
Suddenly she knew who the woman was, the one who'd called out to her as if she knew Meaghan and had reason to hate her. "Child of five bloods is…your child, I think." The words came out hard and harsh, fighting against the vision. "In danger. Agency knows her. Knows her name and what she is, anyway. And she's here. I can feel her. You must…protect her. She matters…in some cosmic way…not just because she's a kid."
The vision fought through her words, filling her mind with a family's anguish, a child's terror, death.
And hints of what the Agency wanted with the baby, the destruction they could force from her innocence and power.
Meaghan reared up, started to scream.
Two sets of arms wrapped around her, easing her back to the ground. Two male bodies, moving almost as one, lay down, one on each side of her as if to protect her from the voices in her head. One was Kyle. She recognized his ocean-and-fur presence. The other was a stranger, tall, solid, and even though he was a stranger, safe in a way she couldn't explain. "Shield, dammit," a strange male voice said. He sounded angry but Meaghan knew he was just afraid. "Shield. Work with me, babe. Shield."
"I can't…" she started to say, but suddenly she found she could. Her rudimentary shielding that kept out the buzz of other people's minds never stood up to the force of the visions, but this time a wall of water, flexible but impermeable, rose up between her and the horrors she'd been forced to experience. Hidden inside those walls, her body lost some of its rigidity. Her hair flopped down again like it was supposed to.
And she transported into another vision, but this time it was the delightful one of making love with two men in the ocean.
Like most of her visions, she'd forgotten the details when she snapped out of it, but now they came back, sensual and vivid.
How had she not realized that Kyle was one of the two men, the one she'd recognized as nonhuman?
This deep-voiced, hard-bodied stranger who felt vibrant and liquid and right in her head, was the other.
She sank farther, not fighting anymore, letting sensation take her.
She didn't have time to enjoy it, though, because the woman was there, pushing the man who wasn't Kyle aside to kneel beside her. "What about my baby?" the woman demanded, her voice hoarse as if she'd already been crying for days. "I saw you in my baby's mind. I thought you were in league with Chenier or Shaw, but you're no sorcerer. Victim of a sorcerer, maybe. How does the Agency know about my baby?"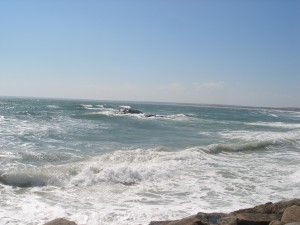 Buy links: Samhain /Amazon / Amazon UK / B&N Nook / Kobo
The ocean is on their side. But the fight is on land—and it's about to get dirty.
Duals and Donovans: The Different, Book 4
Long held captive as the Agency's secret weapon—a blind witch with visions—Meaghan has come to a line she refuses to cross. Rather than betray the infant "child of five bloods" to the Agency's scientists, she chooses death. Except when she throws herself into the ocean, she doesn't die. Her repressed water magic comes to life.
When the sodden, delirious witch drifts into Kyle's arms, his otter dual instincts tell him to get her to the Donovans as fast as possible. Even though one particular surfer-dude Donovan broke his heart.
Declan Donovan continually kicks himself for pushing Kyle away, but his touchy combination of water, earth and lightning magic is too volatile, and Kyle wanted more than Deck was ready to give.
When they come together to help Meaghan control her new magic, it leads the Agency straight to the child of five bloods. They'll have to dive head-first into total trust—in their magics, in themselves and in each other—to save the child and stop the Agency once and for all.
Warning: Contains an oceanful of sex between an ethereal blind heroine who swears like a pissed-off Marine, an overly serious otter shifter, a would-be beach bum who may be descended from a Norse god, in permutations as fluid as the sea – and themes of abuse and recovery.
Series blurb:
Welcome to an America where the non-human Different and magically gifted humans live among ordinary people. Witches are both feared and honored, but shape-shifting duals are treated as second-class citizens. The Agency, a government agency that's supposed to monitor illegal uses of magic and Different abilities, has developed its own dangerous agenda. But when Duals and witches join forces, the Agency and other bad guys aren't going to know what hit them.
And neither are the witches and Duals. Witch magic grows from the positive energy of love and sex–and the only thing better than one dual for sex magic is two of them!