8 Feb 2016
We're enjoying a fine winter storm here in New England, so I thought I'd share a little something to heat up your winter day. Early reviews are saying things along the lines of "Wow, this story has it all!" (Harp's Romance Book Reviews) and "Character-driven romance and well-developed sex scenes […] a book that is worth a look." (All About Romance). And today, you can still get the pre0rder price. (Plus it's on sale at Samhain, along with all other romance titles.)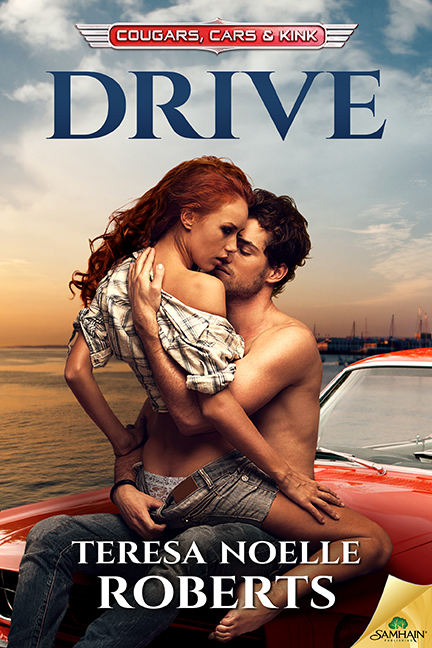 "We're going to have so much fun." He smiled, shaking his head. "Open your legs." When she obeyed, he ran two fingers over her lips, catching her moisture. "You're so wet." His fingers dove into her, just long enough to make her clench. "I can't wait to lick that lovely pussy and play with that ring. Can't wait to fuck you. But first, I'm going to do something I've been dreaming about ever since I saw you bent over the Mustang. Turn around so I can spank your beautiful ass. Assuming that's something you want to try, of course."
Heart pounding, breath caught in her throat, Suzanne obeyed, bracing herself against the counter.
She prepared herself for a resounding thwack, but as he'd done with her breasts, he started with a light caress, running his big hands over the skin until every bit of it tingled to life.
She pushed her ass back at him and moaned. He rewarded her with a hard spank.
Surprisingly hard. She'd been prepared, she thought, but it had been a long time. "Ouch!" she exclaimed, then added quickly as the heat spread from her affronted bottom throughout her body, "But not yellow. Just startled."
He stroked the tender skin for a second then struck again. This time, she managed not to yell, though she did bounce in place on her toes and instinctively pull her hips forward.
She immediately pushed them back at Neil and the spanking continued.
It stung like the devil, but at the same time, the pain suffused her with heat and need. Her clit throbbed. Her pussy ached as it got even wetter. The ring in her labia felt like a great, teasing, delicious weight. At first she tried to count the blows, but soon her brain refused to deal with anything that mundane and lost itself in the cycle of sting and sensual fire. Her hips rocked back and forth. Her head swam. Neil was crooning something as he spanked her, but while the words sounded sweet and dirty, she couldn't focus on them.
When he switched from his hand to a wooden spoon, she yelped, but more because she was startled than anything. That felt great too—a different, more concentrated sensation, less intimate than Neil's hand, but exciting in the way it packed the sensation into one small area. "Is that good?" Neil asked.
"Yes," she moaned, surprised by how husky her voice sounded, how much like a woman already having an orgasm rather than spiraling toward one. "Oh, yes. Wouldn't mind harder."
A flurry of sharp wood blows followed, light but stinging. She danced in place, flinching instinctively, yet delighting in the blows, in the way pain and pleasure blurred.
Without warning, Neil switched back to his hand, one solid, thuddy spank. The warmth of his hand seared into her beautifully abused skin and reached places inside her she hadn't even known existed.
Her body convulsed. Her cunt contracted around nothing. Her knees started to buckle from the force of an unexpected orgasm. She caught herself on the counter, still wobbling. Then Neil wrapped his arms around her, pressed himself over her body.
As she started to calm down, he pressed harder, the roughness of his jeans emphasizing how tender her ass was. One hand snaked between her legs to tug gently on her piercing then circle her clit.
Suzanne detonated again, crying out his name.
Neil didn't even bother to undress, just opened his fly and, after a few minutes of rummaging that seemed like hours, put on a condom.
She didn't ask where the condom came from, didn't especially care. She wished she'd gotten a good look at his cock, but right now what mattered was he was in her, long and thick and fierce. It felt like she'd been waiting for this all her life. One hand pressed on her upper back, pushing her onto the counter, the other gripped her hip almost savagely. He didn't bother starting slow or building up gradually. Just pistoned into her and it was just what she needed at that moment. The slap of his hips against her sore ass, the slight abrasion of the zipper, reminded her over and over again of the spanking. She couldn't move, just feel and react, and that was just fine with her.
The hand that had been holding her against the counter grabbed her ponytail, forcing her head back. She arched, clenching even more. "I want to feel you come on my cock." Neil's voice shivered on her skin, rough and beautiful. "Can you do that for me?"
He's a kinky dream come true—and her only protection from danger.
Eight months after her (cheating, almost-ex) husband's death, Suzanne Mayhew has a plan to move on with her life. First step: sell off Frank's classic cars, starting with the red vintage Mustang convertible he never let her drive. Second step: get her unexplored kink on with a delicious younger man.
Preferably the one an old friend sends around, ostensibly to check out the Mustang. Neil Callahan—Boston cop, Dom, fifteen years her junior.
Neil feels the mutual sizzle, but if the blush staining her cheeks is any indication, her flirting skills are a little rusty. Though his instinct tells him to take things slow with the recent widow, he can't resist inviting her along for a test drive—for the whole weekend.
Throwing caution to the wind, Suzanne takes him up on it. But they're barely out of the driveway when Neil's cop instincts kick in. They've got a tail…and it looks dangerously like her ex's secrets looming large—and deadly—in their rear-view mirror.
Warning: Spies, lies and vile bad guys. A meddling BFF. Inappropriate use of kitchen tools. Completely appropriate use of rope and floggers. Your mileage may vary, depending on battery life.
Samhain / Amazon US / Amazon UK / Barnes & Noble /Kobo / iTunes/iBooks /Google Play /All Romance Ebooks