6 Oct 2016
This week marks the first anniversary of Xia's arrival at our house. Not Xia my fictional cat-girl, of course–though Bad Kitty came out last September so I just missed that anniversary–but Xia the cat. A few weeks later, Tinkerbelle* came home from the shelter to join Xia and senior cat Noodle. (It took her months to come out of the basement except for meals, but now she's integrated into the family.)
* I'm not sure why her name is Tinkerbelle rather than Tinker Bell, like the fairy from Peter Pan. Perhaps because she's belle, or beautiful. Or perhaps because her original owner never double-checked the spelling.
It's a regular cat-iversary celebration around here. The cats, being cats, are unimpressed, though happy enough to suck up some extra petting and attention as I wax sentimental. But I figured this was a good time to make use of the Internet for its primary purpose: sharing cat photos.
First, Noodle, our senior kitty at 15+, will indulge in some shameless promotion. Forget the book, though. Isn't she a handsome cat?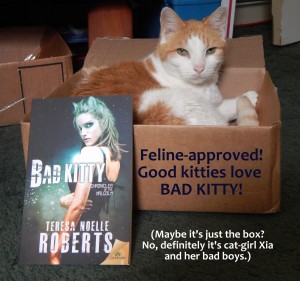 And now for the anniversary kitties, Xia and Tinkerbelle.