5 Aug 2014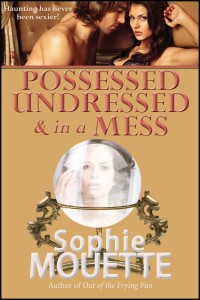 What a busy and wonderful week! While I was still spreading the word about the release of Blood and Lotuses, I learned that Little Kisses Press had released Sophie Mouette's latest romance, Possessed, Undressed, & In a Mess. This work combines spicy romance with a sexy bad-boy hero, larcenous hijinks, and a Victorian ghost who's not exactly prim and proper. Just writing this book has been a wild ride, though the two halves of Sophie, as always, had a lot of fun with the process. You see, we started out thinking we were writing straight-up erotica, but the characters insisted that no, it was a romance. A sexy romance, sure, but our hero and heroine would play only with each other and any other characters who were enjoying a sensual good time would do so off-camera, maybe dropping a few entertaining hints. Interesting how characters will have their say, but when you listen to them instead of fighting, it makes for a better book.
Even if it means rewriting the beginning a few times.
Blurb:
A séance gone wildly wrong leaves hotelier Angela Georgenes sharing her body with a randy Victorian ghost. Someone's after a treasure allegedly hidden in the hotel and the ghost wants to tell Angela—but can only communicate when Angela's on the verge of orgasm.
Talk about awkward.
Angela—and the ghost—are both hot for new handyman Tyler Woodruff, but is he a knight in a shining pickup or the thief? In truth, he is there under false pretenses: he's a fortune hunter who liberates unappreciated artifacts. Distracted by Angela's wicked imagination and uninhibited bedroom antics, he doesn't want to fall in love with her any more than she does with him.
But admitting their true feelings is the only way the ghost can reveal the nature of the treasure—and the real threat.
Intrigued? Check it out! It's available in both paper and ebook formats at all the usual places.
Amazon / Amazon Kindle / Barnes & Noble / Kobo /Smashwords