14 Sep 2014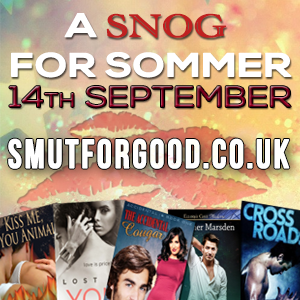 Today, September 14, writers of racy romance and erotica are joining forces to help our fellow author Sommer Marsden. Sommer's been a visitor to this site many times. She's become a friend over the years, though we've never met face to face. And she's a fantastic author; I highly recommend her books, which will make you think as well as feel. (And some of them will make you feel really good, if you get my drift.)
Sommer and her family are facing a challenging time right now. Her beloved husband is battling pancreatic cancer. Her writer friends can't do much to relieve the worry and fear that they must be dealing with, but we can do a little to ease their financial strain. We're spreading the word via the regular Sunday Snog blog hop, hoping that if you enjoy our kiss scenes, you'll donate to help this wonderful writer and her family during this tough time. Hell, even if you think our excerpts are ridiculous, sappy shite, we hope you'll donate anyway… but we do hope you like them.
Here's my snog, the first kiss from my BDSM-oriented erotic romance Out of Control. Be sure to comment! You could win a copy of Out of Control! And be sure to visit the tour's home page so you can donate.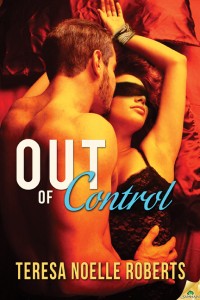 At the door, Drake extended his hand for her to shake. Acting on impulse, though promising herself it would just be a quick, friendly indulgence, she hugged him instead. "Thank you so much for letting me have this place!"
Drake's arms closed around her, wiry and strong. His body radiated heat. Jen's heartbeat sped up, or maybe it was his, echoing in her ear. He felt better than someone she just met had any right to, and something impressive was stirring inside his shorts. She squirmed against him, enjoying a second-long flash of explicit fantasy: him holding her down with his surprising strength, controlling her, fucking her.
Right. Time to back away. Professor Hot-Stuff was intriguing, and she would definitely consider an academic pursuit once they got to know each other better, but she'd already bordered on making an ass of herself with the hug, especially after the whole riding-crop thing. If she started rubbing against him like a cat in heat…
She ought to slip away but it was hard to make herself be sensible when he felt this good.
She raised her face, honestly not sure whether she was preparing to pull back or inviting a kiss. She knew which she wanted. She knew it wasn't smart.
But she wasn't sure she cared.
Drake's grip tightened, not oppressively but enough to feel deliciously possessive. He bent down. "Kiss me," he whispered, his voice throaty, intimate. He murmured, "That's a good girl," before his lips met hers.
Fire. The kiss was like the heat from her glass furnace. No, it was like the molten glass itself, malleable and flowing, suffusing her body from where their lips met. His lips were firm but soft, his beard deliciously raspy and masculine. One of Drake's hands slipped up to cup the back of her head, long fingers tangling in her hair. He tugged just enough to pull her head back, opening her up for a deeper kiss. Her lips parted under his, inviting his tongue. His breath tasted like coffee, which she loved on the right man's breath almost as much as in the cup, and peanut butter, which she wouldn't normally find sexy but which suddenly became intensely erotic under the deft ministrations of his tongue.
Damn, her bike shorts were going to be soaked. And by damn, she meant supercalafragilistic with a side order of expialidocious.
Just when she reached a viscous state, Drake released her with a sigh, though his shorts were obviously packing some serious heat. "Living with you is going to be dangerous. Good thing I'm on a deadline, or I'd want to keep you here."
"I don't mind being kept." Where did that quiver in her voice come from, and why was she talking like Betty Boop?
If this sparked your interest, here are buy links for the book: Samhain /Amazon  / Amazon UK / B&N / Kobo
And here, again, is the important link for today: where to donate! After all, we're not just snogging today; we're Snogging for Sommer! http://smutforgood.co.uk/a-snog-for-sommer/