17 Dec 2014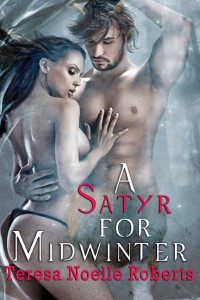 'Tis the season for Christmas romances, full of brightly lit, fragrant trees, quotes from familiar carols, and kisses under the mistletoe. They're often sweet as sugar cookies and hot cocoa, even when they're sexy, and they induce waves of nostalgia for holiday traditions that might not even be your own.
A Satyr for Midwinter (Seasons of Sorania Cycle 4) is a bit different because it centers on the Winter Solstice. While it's set in a fantasy world (the satyr in the title kind of gives that away!) I drew on actual Solstice traditions of various cultures for my Soranian holiday celebrations, as well as creating a few that fit with my imaginary culture. The Soranian religion, like many religions in the agrarian ancient world, focuses on the growing season, the needs of the land–and not surprisingly, uses human fertility and sexuality as part of its rites, a metaphor for the earth's fertility. This story, of a satyr in need of healing, a noblewoman in need of joy and magic, and a sexy ghost, isn't your classic Christmas romance–yet there's a core of life-affirming sweetness as they celebrate the return of the light and let light and love into their own lives that I think fits the "holiday romance" genre.
Blurb: Laeca, Lady of Thermanae, missed out on the incredible good looks that bless the rest of her family–not to mention the talent for healing and sex-magic.
What she has is determination, pride, honor, and an unwavering dedication to the land and people of Thermanae. All its people, both human and satyr. She can't remember the last time she let herself have fun. Sex is something that happens on the erotically charged Soranian holy days–if she actually has time to attend the festivals.
When a sick satyr collapses at her feet on Midwinter's Day, Laeca realizes she'll be passing on the yet another festival in order to nurse him, hoping common sense and herb tea will make up for lack of healing magic. But when she realizes Kallios is at death's door because he wants to follow his murdered beloved, she makes a vow on her family honor to save him. By any means necessary. Including by restoring his will to live by reminding him how much fun sex is.
In the Soranian Empire, though, vows made on holy days have unexpected consequences. Or maybe Kallios' dead lover's ghost understands what the living need better than they do. Before the Longest Night is done, Laeca will find her magic and risk her life. Kallios will learn his dead lover isn't necessarily gone. And all of them, including the dead man, will be changed by the powers of love, magic and the Longest Night.
Sexy excerpt:
The satyr's lips met hers, tasting of honey and wine, and faintly underneath, of the herbs she'd given him. He gripped her hard enough to bruise.No one had ever done that to her before. She'd never had a lover who wasn't aware she was Laeca, daughter of Thermanae and later Lady of Thermanae, who didn't know her fierce, dangerous father and brother and even more dangerous mother and aunties—who didn't feel he had to be careful with her.
Kallios could be rough with passion because he didn't need to worry about such things. She didn't know if the roughness itself or the fact he wasn't from her world, didn't come to her burdened with preconceptions, was what aroused her so. All she knew was that her pussy flooded at the edge of not-quite-pain.
Her body arched against his. "Now," she said, breathing the words into his open mouth but knowing he'd still understand. "Please. Need you inside me."
He lay back and raised her hips. "You'll have to do most of the work, Laeca. Will you ride me?"
"Lord and Lady, yes!" She eased herself down onto the broad head of his cock.
She started off slowly, a bit awed by his size, by the slightly different,not-exactly human shape. But it felt too good.
She couldn't be patient. Not when it had been so long.
And apparently he couldn't be either, because he pulled her down just as she made up her mind to push herself.
Laeca gasped. She was full, so full it almost hurt, and yet it felt better than any lovemaking she'd ever experienced. "Sweet Lord and Lady," she
swore—or was it a prayer?—and began to move over him, rising and falling on that great cock.
His hands gripped her, helping her move, helping her find the rhythm they both needed. The room grew heated, and not from the fire.
It was the day that edged into the Longest Night of Midwinter. Snow gripped Thermanae and the wind carried the sharp steel edge of a blizzard roaring in from the wilds.
And yet Laeca's chamber filled with the scents of a warmer season—fresh fruit heated by the sun, herbs and grass crushed by lovers lying down
together in the hills, new wine, rich and heady, the sweetness of honey. And mingled with all that was another scent, an elusive yet heady musk
that got into her blood before she could identify it.
"Please," she said, her voice alien to her, a seductress's throaty whisper, not her own forthright, sardonic, occasionally commanding tone. "I need…I need…" Her voice trailed off. She wasn't sure what she needed.
"You need about a week of my undivided attention when I am at my full strength. So much banked fire in you."
Buy links: Amazon US / Phaze / All Romance Ebooks / Kobo