6 Oct 2014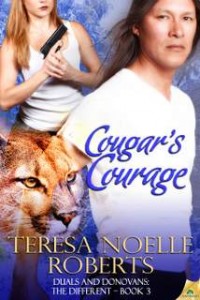 Cougar's Courage (Duals and Donovans: the Different, Book 3) is a paranormal romance, with a sexy cougar shapeshifter hero and a shaman-in-training heroine. Both the magic and the hero's animal side show up in the excerpt below. The book's out in print on 10/7/14 (tomorrow!), so I thought I'd share a little hot shapeshifter sex. This picks up at the end of the excerpt I posted last week.
Blurb: Toronto cop Cara Many-Winters Mackenzie is still reeling from her fiancé's murder when her orderly life takes a turn toward the weird, complete with voices in her head and phantom bleeding wounds.
This violent awakening is the rise of her Different gift—a chaotic, Bugs-Bunny-on-crack magic that she must learn to control before it destroys her. There's only one place to get help: her mother's ancestral village, and a mentor who seems to have stepped straight out of the smoke of her erotic dreams.
Cougar Dual Jack Long-Claw reluctantly agrees to take Cara under his wing, though he'd much rather take the beautiful city girl into his bed. As he guides her through a crash course in shamanic magic, sparks fly—some sexy, some snarky. But when an ancient enemy attacks the village, they must work together to hone a magical weapon against certain destruction.
Common sense tells them it's a terrible time to fall in love. Their spirit guides have other ideas. And shamans who don't listen to their spirit guides are dead shamans…
Warning: Hot shape-shifting feline hero. Strong but shell-shocked heroine. Snarky, meddling spirit guides. And lots and lots of sex: angry sex, crazy sex, magical sex, and just plain sexy sex.
"Show me, then. Now." She heard the words from across the universe, on some level knowing they were right, as if she was being guided. Though if she was being guided right now, it was by the spirit of Marilyn Monroe or Mata Hari or some dead porn star who'd really liked her work.
Remembering the dream, she imagined they'd wind up in the bed, under the layers of blankets and furs.
Instead, Jack leaned her against the table.
The next part was like the dream, though. He slammed into her from behind with no hesitation, no elegance, nothing but pure sex. Hard, hot hands gripped her hips, and the table's unfinished surface, worn smooth by years of use, sent energy through her hands, the energy of well-loved, much-used wood. Her hands looked odd on the table. That classy-looking ring wasn't her usual style. There was a story there, a reason she was wearing it, but she couldn't remember it.
Then Jack did something clever with his hips, and she forgot the question. Forgot her own name and his. Forgot everything except pleasure.
Under the forces of the fucking, she slammed into the table edge hard enough that she'd have bruises, but right now that added something, as did her nipples brushing the cool, slightly rough surface. Her pussy hadn't recovered completely from the first orgasm, and it clenched and clamped on the hard cock ripping into her. It was violence disguised as sex or sex disguised as violence. It was just what she needed after slinking things that weren't really wolves, and blood on the snow and the shape of a man where an animal had been.
She couldn't say when she started coming. She only knew she didn't stop, not even after Jack drove his nails into her hips and snarled his inarticulate pleasure into the sudden stillness.
He carried her to the bed, laid her down with a tenderness that contrasted sharply with the rough sex, crawled in beside her.
He traced his finger around the scar on her shoulder, still smeared with dried blood from where it had opened earlier. "Bullet?" he asked quietly.
"Line of duty," she responded.
"Most of my fighting's been in cougar form. The scars don't carry over."
"I know." She nodded gravely. "I remember examining you for scars… No, that was a dream." Her brain was curiously fuzzy. None of the sharp pain that preceded an episode, but something felt odd, and it wasn't just post-amazing-sex warm fuzzies.
"You dreamed me too?"
"Yes."
"Very explicit dreams?"
"Hell, yeah." She grinned lazily. "For about two weeks, as soon as I knew I had to come here."
"I knew you had this scar. Knew how you got it. Know that you and your partner reached the shooter too late to stop a multiple murder."
There was only one thing to say to that. "Shit."
"Yeah. Shit. Because you know what the dreams failed to mention?" He picked up her right hand. "This fucking ring. The one I managed to look right though. You're engaged?"
Memories of Phil flooded her. Her stomach heaved. "Was engaged. Phil's dead. He was killed almost five months ago—carjacking. I should have been with him, and I wasn't, and it haunts me constantly. But I swear I forgot him when you touched me. I could only think about you." She held her breath. It sounded so lame, and yet it was true.
"I saw the ring." The bitter edge on Jack's voice could have cut her, but she knew it wasn't directed at her. At himself, and maybe at something else, but not at her. "I should have asked questions, found out if you were engaged or if it had been your mom's ring or something harmless. Instead, I grabbed you and didn't let go. That's not like me. And I bet this isn't like you."
"Even if I was ready for a relationship or a fling or whatever, I don't normally fuck people I just met. Flirt, sure. Fuck, no."
Jack rolled out of bed. "We're being manipulated, pushed together. Spontaneous is one thing, but this was crazy. Usually I say a few sweet, sexy things before I screw someone senseless."
"Crazy fun, but crazy. I honestly forgot Phil. How could I…"
"Magic." He ducked and grabbed the blanket he'd abandoned on the floor. "Maybe someone wants us to be together, no matter what we think about it. Grand-mère's eager for me to settle down, and I'm sure she'd love you to stay in Couguar-Caché. Or it could be something much worse."
Buy links for the ebook:
Buy links for the paperback: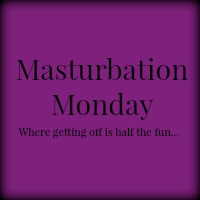 While this is a fairly mild post for Masturbation Monday, it's part of the blog hop . Find others here.