Duals and Donovans: The Different series – Red-hot paranormal romance (BACK SOON)
New covers and new buy links coming soon!
Welcome to an America where the non-human Different and magically gifted humans live among ordinary people. Witches are both feared and honored, but shape-shifting Duals are treated as second-class citizens. The Agency, a government agency that's supposed to monitor illegal uses of magic and Different abilities, has developed its own dangerous agenda. But when Duals and witches join forces, the Agency and other bad guys aren't going to know what hit them.
And neither are the witches and Duals. Witch magic grows from the positive energy of love and sex–and the only thing better than one Dual for sex magic is two of them!
Witches' Waves: Duals and Donovans: The Different, Book 4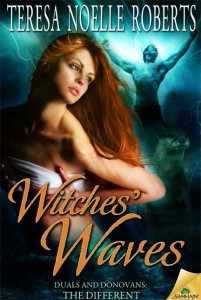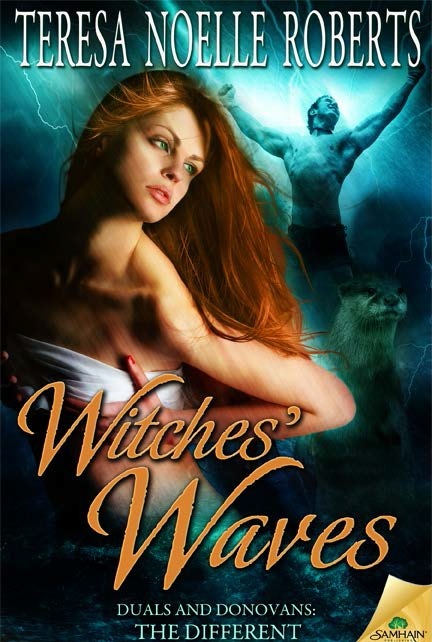 The ocean is on their side. But the fight is on land—and it's about to get dirty.
Duals and Donovans: The Different, Book 4
Long held captive as the Agency's secret weapon—a blind witch with visions—Meaghan has come to a line she refuses to cross. Rather than betray the infant "child of five bloods" to the Agency's scientists, she chooses death. Except when she throws herself into the ocean, she doesn't die. Her repressed water magic comes to life.
When the sodden, delirious witch drifts into Kyle's arms, his otter dual instincts tell him to get her to the Donovans as fast as possible. Even though one particular surfer-dude Donovan broke his heart.
Declan Donovan continually kicks himself for pushing Kyle away, but his touchy combination of water, earth and lightning magic is too volatile, and Kyle wanted more than Deck was ready to give.
When they come together to help Meaghan control her new magic, it leads the Agency straight to the child of five bloods. They'll have to dive head-first into total trust—in their magics, in themselves and in each other—to save the child and stop the Agency once and for all.
Warning: Contains an oceanful of sex between an ethereal blind heroine who swears like a pissed-off Marine, an overly serious otter shifter, a would-be beach bum who may be descended from a Norse god, in permutations as fluid as the sea – and themes of abuse and recover.
NEW LINKS SOON
THE REST OF THE  SERIES: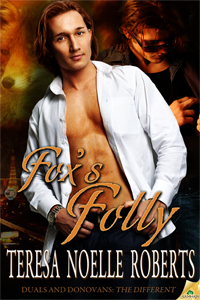 Fox's Folly: A Duals and Donovans Adventure
What happens in Vegas lasts forever…if you're lucky.
Las Vegas is the wrong place for an inexperienced witch like Paul Donavan. But he has no choice; his family owes a debt of honor to a half-fae casino owner, whose guests have been dying under mysterious circumstances. The normy police haven't connected the dots between the deaths, and the owner has called in his marker.
When Paul literally runs into fox dual Taggart Ross, the instant, powerful attraction between them bristles with red flags. Not only should there be no sparks between him and this "hillbilly with a tail," the fact is a dual couldn't have committed murder-by-magic. But until he's got proof, caution rules.
Tag's own suspicions are on high alert. Magic killed his favorite uncle, and Paul, who senses Tag's dual nature way too easily, should be a prime suspect. Except Tag's libido responds to the witch in a way that shouldn't happen.
Whatever this thing is between them, the raw sexual energy feeds a power that becomes their best hope of drawing out the killer before he, she, or it strikes again. Until love gets involved, and things get real complicated, real fast…
Warning: Sly foxes, smoky Southern drawls, sex magic, dangerous demons, tacky Las Vegas glitz, and did we mention the hot guy-on-guy sex?
Note: Fox's Folly is the prequel to Foxes' Den and comes before Lions' Pride in time sequence, though it was published later. That's why it's not numbered.
NEW LINKS SOON
* * *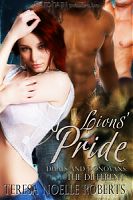 Lions' Pride: Duals and Donovans: The Different, Book 1
Elissa Donovan is a real green witch—when she and her lion-shapeshifter husband have sex, the blazing heat is recycled to warm their house. Now her beloved Jude has been kidnapped by a shadowy government agency, and the last place she can turn for help is her high-powered family, who considers her magic mediocre.
When Rafe Benedict gets Elissa's call for muscle to back up her magic, he risks his law enforcement career to answer. He's spent a lifetime hiding his Dual ability, but something about Elissa and Jude's magic awakens the cougar within him.
Tempting, bronzed Rafe is the perfect fuse for Elissa's sex-fueled magic. Danger lies in breaking her vows; joining with anyone other than her true mate could not only send her marriage up in flames, it could burn out her powers in a last, all-or-nothing explosion. But Jude is worth the risk. And for Rafe, potential heartbreak is nothing next to the chance to help the two people he's coming to love.
First, though, Rafe needs a crash course in Cougar
Product Warnings: This title contains evil fae, guys with guns, shadowy government conspiracies, a snarky ghost, and smoking-hot, three-way sex.
New links soon!
* * *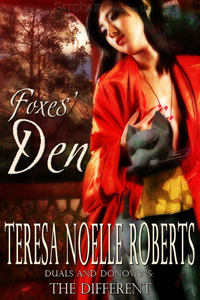 Foxes' Den : Duals and Donovans: The Different, Book 2

Some guys just don't take rejection well. Sure, Akane's affair with an uptight sorcerer's boy toy backfired, but two hundred years locked in a mortal body is cruel and unusual punishment for a Trickster avatar. To free her fox form, she needs sex magic with a male of her own kind. Except none exist.
Adorable Trickster-touched fox dual Taggart Ross-Donovan is the closest she's found. Even better, he's married to Paul Donovan, whose red magic sizzles the air around him. One night with them will generate the extraordinary power needed to set her free.
The last thing Tag and Paul expect to find under a sorcerer's curse is a kitsune, a beautiful one who gets under their skin without even trying. Tag is more than ready to take the risk she needs. Paul has reservations, but it's nothing Tag can't overcome with a little sensual persuasion.
No one goes into the ritual with more hope than Akane…or more fear. Failure will leave her forever entrapped. Worse, she's falling for two mortals. And there's only one thing that can kill a kitsune—unrequited love.
Product Warnings: Contains sly fox men (with tails), foxy fox women (with multiple tails), sexy witches chasing tail, Trickster magic, cranky sorcerers, and enough gay, het and MMF sex to torch your Kindle.
New links soon!
Cougar's Courage: Duals and Donovans: The Different, Book 3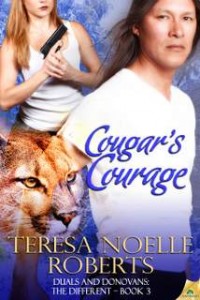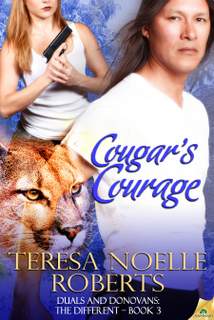 "The perfect blend of suspense, magic and sexual chemistry"–RT Magazine
Logic says wait. Their bodies scream go. And their spirit guides are playing dirty.
Toronto cop Cara Many-Winters Mackenzie is still reeling from her fiancé's murder when her orderly life takes a turn toward the weird, complete with voices in her head and phantom bleeding wounds.
This violent awakening is the rise of her Different gift—a chaotic, Bugs-Bunny-on-crack magic that she must learn to control before it destroys her. There's only one place to get help: her mother's ancestral village, and a mentor who seems to have stepped straight out of the smoke of her erotic dreams.
Cougar Dual Jack Long-Claw reluctantly agrees to take Cara under his wing, though he'd much rather take the beautiful city girl into his bed. As he guides her through a crash course in shamanic magic, sparks fly—some sexy, some snarky. But when an ancient enemy attacks the village, they must work together to hone a magical weapon against certain destruction.
Common sense tells them it's a terrible time to fall in love. Their spirit guides have other ideas. And shamans who don't listen to their spirit guides are dead shamans…
Elissa, Jude, and Rafe from Lions' Pride–and their unusual, improbable (and adorable) baby–make special guest appearances.
Warning: Hot shape-shifting feline hero. Strong but shell-shocked heroine. Snarky, meddling spirit guides. And lots and lots of sex: angry sex, crazy sex, magical sex, and just plain sexy sex.
Check out excerpts here and here.
New links soon!