Yield (Kinky Cougars 2)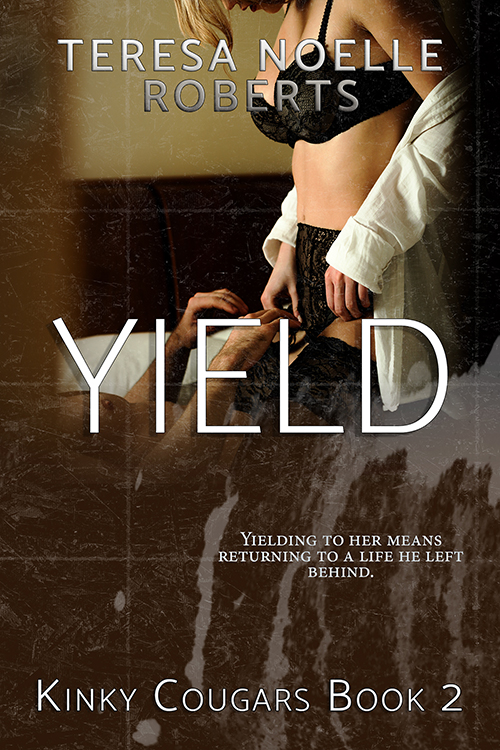 Yielding to her means returning to a life he left behind.
What Boston lawyer Gabe Adamiak should do: sell his grandparents' farm ASAP and hurry back to his high-powered job and the Boston BDSM scene.
What he wants to do: stay in the country long enough to figure out if the lovely farmer up the road is the Domme of his dreams. As if.
What farmer Mari Lyndon should do: raise her goats and forget the kink scene. She's too old for hook-ups and she's given up on finding a submissive guy who's longing for the rural life.
What she wants to do: tie up her neighbors' hot city-boy grandson and jump his bones. Then order him to make dinner and if he says yes—keep him. Potentially forever. As if.
When a freak fire and an unexpected snow storm throw them together, they discover an explosive erotic connection. But what they share goes deeper than that. Gabe wants to belong to and serve the right woman as much as Mari wants to own and nurture the right man. But there's no way this could grow into a permanent relationship, with Gabe only in the area temporarily—and neither wants to settle for anything less.
When someone wants to scare Gabe back to the city (with a side-order of making Mari's life miserable), Gabe makes arrangements for a longer stay just to spite their enemy. Thanks to Mari, he's enjoying the country life he fled as a teenager. But can he give up his life in Boston forever? Mari doesn't dare to ask. But when the truth about their tormenter comes out, Gabe has to make a decision that could change their lives for better or worse.
Warning: Wacky relatives. Attack geese. A truck called Lou-Lou. And a smoking hot submissive guy willing to give his all to a kinky country cougar.
* * *
The air between them shimmered with tension, with questions neither of them had asked yet, desires they both acknowledged, but still danced around expressing. It was late by farmer standards and Mari would normally be winding down for the night, but her body hummed with the unique arousal that grew from wanting to caress and fuck someone's mind and spirit, not just his body. From yearning to control someone who seemed to want this to happen. She'd forgotten how sweet it felt, like fireworks and ice cream and champagne all at once, the anticipation almost as much of a pleasure as the fulfillment would be.
She'd forgotten how frustrating it could be to play wisely when all her nerve endings wanted to jump into something. Or onto someone, or whatever the right wording was.
Pre-order now; out 3/1/2018!
Available at all your favorite ebook vendors and coming soon in paperback.