The Lion of Frenchman Street – Jazz & Kink, New Orleans style
She was laughing about that when he moved in close, caught her in his arms again. Naked against his hard, suit-clad body, she felt vulnerable, open, exposed. Yet, strength surged through her. She'd chosen her vulnerability, and that was a kind of power.
One hand tangled in her hair and pulled her head back. The other cupped her ass. His mouth didn't ask questions as it claimed hers. It answered them.
Yes, he was in charge.
Yes, he'd take good care of her.
No, he wasn't going to harm her. He might hurt her, but in ways she'd enjoy.
Yes, it might get scary, but the pleasure would be worth it.
No, he wasn't going to let her off the hook unless she used her safeword. But he wouldn't let her down, or let her go until they were ready for the night to end.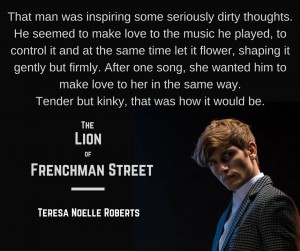 * * *
Blurb: On Kelsey's first night tending bar at a New Orleans jazz club, she catches the eye of handsome saxophonist—and Dominant—Peter Lyons. He sweeps her into his world of music and kinky sex, introducing her to fierce pleasures she's always dreamed of. As they explore the crazy, romantic city she comes to love as much as he does, she's falling hard for Peter, too. Even though he claims "true love" is for songs, not real life, it's hard to resist his rope skills and his vintage movie star looks, his passion for life and the hints of pain in his blue eyes.
But Kelsey's only tending bar as a stop-gap. When she's offered a dream job out of town, Peter's old scars break open and everything goes out of tune. Can music, passion, and the magic of New Orleans get them back in harmony?
Order it now!