Christmas Stockings: An Out of Control Novella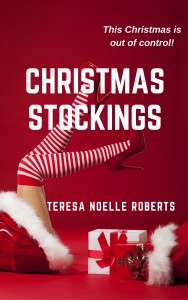 This Christmas is out of control!
Reconnect with Jen and Drake from Out of Control in this standalone short holiday novella.
Artist Jen's striped holiday stockings factor in her mathematician husband—and Dominant—Drake's equation for a delightfully kinky evening. What goes better with striped stockings than a striped ass, after all?
But first they have to survive Jen's first faculty black-tie holiday party.
Jen, with her wild hair and wilder stockings, doesn't mind standing out. But she's not so crazy about standing out as the only person at the party without a college degree. Accomplished artist or not, that'll raise eyebrows in academia. She doesn't want to reflect badly on Drake, but she's also not about to let snobbery go unchallenged.
Who knew going commando except for a garter belt could give a submissive the courage she needs to be herself in an uncomfortable environment—at least with her hot Dominant by her side?
And who knew the rewards for becoming the unlikely toast of the Mathematics Department party would be just what Jen wanted for Christmas?
Amazon US  / Amazon UK  / Barnes and Noble / Kobo / Smashwords