Out of Control: Contemporary BDSM Romance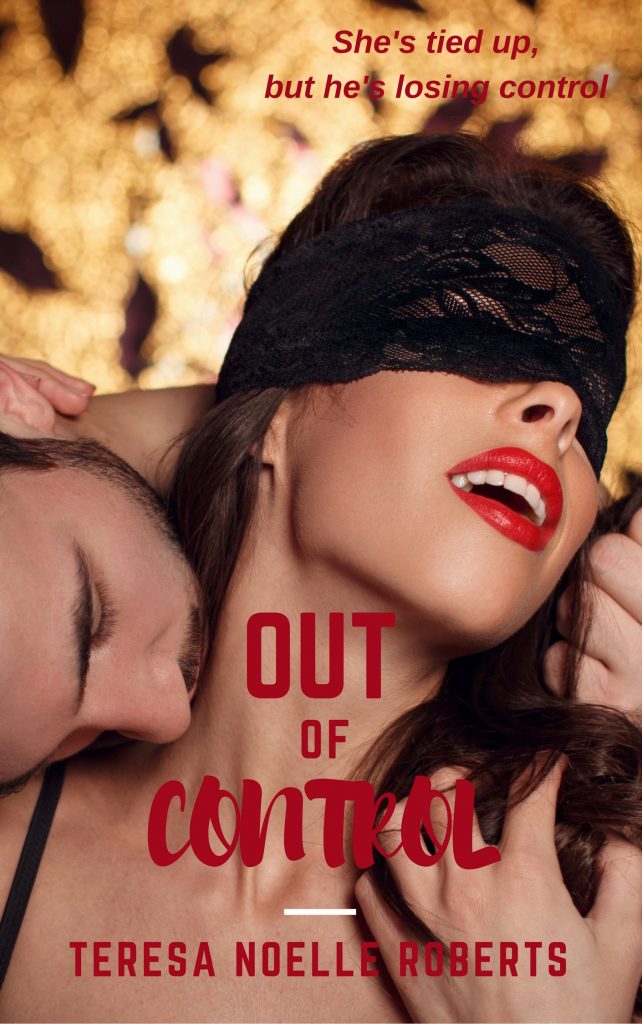 Nominated for Readers' Choice and Golden Flogger Awards for Best Erotic/BDSM romance!

She's tied up, but he's out of control.
Glass artist Jen Kessler has hit the jackpot—a cheap apartment in a charming Victorian house, complete with a sexy, intense, buttoned-down landlord…who may or may not have a riding crop in his bedroom.
When she impulsively hugs her new landlord, it sparks kisses as hot as molten glass, which lead to bondage, spankings, and more naughtiness that, up to now, she had only tasted.
His new tenant may have wild, dyed hair and an unconventional job, but Cornell math professor Drake Matthews admires her work ethic. Then he's stunned at how quickly she destroys decades of his carefully cultivated self control.
Soon their passions push them to the edge—and beyond. But it's not all good, clean, dirty fun. As Drake takes more and more control of Jen in the bedroom, her independence and pride push back. And it'll take more than a shared penchant for kink and coffee to overcome pasts that could unravel their relationship before it begins.
Warning: Contains kinky sex, molten glass, geeky higher mathematics, family secrets, and irresponsible consumption of coffee.
See why Heroes and Heartbreakers includes this book in "10 BDSM Romances You Should Read", saying "The D/s play is intense and very hot."
Amazon / B&N /iBooks /Kobo /Smashwords
Excerpt:
"You confound me," Drake said, his voice harsh, dark. "Jen, Jen, Jen, what am I going to do with you?"
"I have a few ideas."
"So do I. Problem is, while we'd both enjoy these ideas, I'm not sure they're smart." Jen froze, unable even to breathe. At least they were on the same page about wanting each other. She wanted to ask him if he truly cared if it was a bad idea, to make it clear she was all about the good-bad ideas, say she even had a clue what those ideas might entail, but she couldn't speak.
"The hell with it. Smart is overrated." Drake's voice came out as a growl, nothing Jen could imagine in a civilized Cornell classroom but could definitely imagine in a bedroom. He reeled her in, pulled her against his hard body.
She felt small and soft. Normally that would make her want to demonstrate her strength—which, thanks to her active life, was surprising for someone who looked more like the petite-flower type. But she liked feeling small and soft in Drake's arms, with Drake's mouth crashing down onto hers.
He lifted her up effortlessly, not breaking the kiss, and carried her toward the unmade bed. My God, what did this man do for a workout? This mathematician had muscles like a cowboy. Holding her with one arm, he swept piles and bags of clothes off the bed onto the floor. She saw a wince cross his face as he did it, as if it offended the sense of order she'd seen reflected in his side of the house. "Don't worry," she joked, "my clothes are used to spending time on the floor."
"Not for much longer," she thought he said. She would have puzzled at the words, except Drake distracted her by pulling her T-shirt off with one decisive motion. She had accidentally packed all her bras last night. At the moment, this seemed like the best accident ever. Drake studied her bared curves, running his big hands along her sides. She purred and arched up. His hands moved to her nipples, began caressing in a gentle, exploratory way, not what she would have expected from his earlier fierceness. Lovely but too light for her taste, it teased and tickled as much as it aroused. She squealed and tried to squirm away at the same time she arched her hips up to meet his, turned on and tormented at same time. The pleasure was almost painful, in the same paradoxical way pain, in the right circumstances and with the right person, could be pleasurable.
"Too much?"
"Too little. I like it rougher." Not something she'd admit to most guys this soon, for fear they'd take it too far, but Avi's words inspired confidence. The woman wrote about safe BDSM practices for a living, after all, and she'd said Drake was all right.
Drake chuckled. "Good." Her brain was whirling like cotton candy in one of those machines at the county fair and felt just about as pink and fluffy, but his tone registered. Evil glee, definitely. She was in trouble, but it was the kind of trouble she loved. With one hand, he began pinching first one nipple, then the other, tugging and kneading. Delicious pleasure and equally delicious pain seared through her. "Good girl. Put your arms over your head."
She obeyed. She couldn't help herself. She didn't want to help herself. Why wouldn't she play along? This was the best thing that had happened to her in a long, long, long time that didn't involve making art.
He grabbed her wrists with his other hand, his grip viselike, unbreakable. Heat pooled in her belly, and she couldn't help whimpering.
"Do you enjoy restraint, Jen?"
She nodded. "Oh yeah." She felt like she should say something more, something about their mutual friend, even, but the time for intelligent dialogue was either past or yet to come, at least on her end. Drake was talking just fine, but maybe it took longer for hormones to shut down his extra-smart brain.
"Would you enjoy a lot of restraint? Rope bondage, maybe?"
She nodded again, unable to speak. Her eyes felt like they were as wide as a cartoon character's, taking up her whole face. Avi had experimented on her with rope back in college—just practicing a few ties on her, nothing more—and she'd gotten a kick out of it. With Drake in charge, and actual sex involved, it would be heaven.
"Excellent." Drake chuckled, and it was the kind of chuckle you'd expect from a supervillain whose evil plan was coming together.
Maybe she was in a bit over her head.
Hurray! Over your head was fun.
And she had it on good authority that he was an ethical perv, not an ax murderer.
"Right now," he said, "I think we're both feeling too impatient for rope. Which means we should do it anyway, once we've gotten a few things out of our system. You need to learn patience and order. Luckily, I'm here to help you."
Jen's head spun. She knew how to sprinkle kink into sex, like a touch of brilliant color to set off clear glass. Still, beyond playful spanking and casual bandana-and-stocking bondage, beyond flipping a coin to see who'd take tongue-in-cheek charge in bed on a particular night, she hadn't explored very far since rooming with Avi in college. She'd looked at Web sites, especially ones Avi had recommended on her own site, and she'd listened to a few erotica audiobooks, but she was definitely a beginner.
Drake wasn't. Even if she wasn't already clued in, she could guess. It was in the way he'd been touching her ever since she'd told him she liked a firmer touch, but more than that, it was in his voice. In his eyes.
She strove for words, tried to say the words that hovered on her lips: You're a dom. Not just a guy who liked to dabble in kink once in a while, but a serious dom. But she couldn't make the words come out.