10 Apr 2013
Independence Days: The Devoted Daughter Edition (plus bonus fruit!)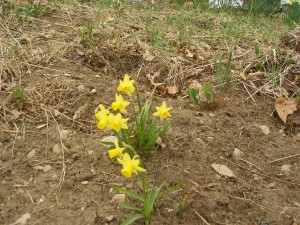 On the morning of March 28, I got a call that my mom was in the hospital. Luckily the situation wasn't serious–she made the call herself, perfectly alert and calm–but she had fallen and broken her right thumb. With her hand immobilized, she was going to need help for a time, so off I went to the Land of (Frozen) Apples, where I spent nine days alternately fretting about Mom (was she really well enough to continue living on her own?), plotting stories in my head, and thinking about my garden. Mom and I talked gardens a lot during that week. I read some of her garden books and bounced ideas off her for the front flower garden we want to redo into a semi-orderly flower-and-herb bed instead of the chaotic mess it became in recent years.
And when the cold rain and sleet finally cleared, I took a ride out into the hills, where snow still lingered, and breathed. Just breathed in the open spaces and the sky and the hills and the farm fields, and came back refreshed to help Mom some more.
Mom is doing much better, so I headed back to Massachusetts over the weekend (actually, Jeff came and got me. We'd gone to New York together, but he'd headed home again once it was clear Mom was stabilized and just needed assistance with things until she figured out left-handed workarounds). At home, I discovered an exciting package from Miller Nurseries, containing one peach tree and one self-pollinating apricot tree, and one rhubarb.  Perfect timing, just as the weather finally turned springlike! So for the past few days, we've had a whirl of garden activity: digging, planting, revitalizing raised beds with new soil and compost, and then more planting. Jeff has been a saint. He actually took time off from work to help me by digging huge holes and moving soil around.
As of today, we have two baby trees and one rhubarb in place, beds suddenly full of blooms where a few days ago there were only buds, seedlings sprouting where a few days ago there was bare earth, and many seeds tucked into the ground. I'll be heading back to Mom's this weekend for a rather subdued 80th birthday celebration–dinner out will have to wait, since she doesn't want to show off her left-handed eating skills to the world–but I'll go knowing my early-season garden is well underway. Thank you, beloved Cat-Herder, for all your help!
Plant something: Trees! Rhubarb! Lettuce, mizuna, mustard greens, additional peas (as the peas planted on 3/25 show no signs of life yet), chard, and Chinese cabbage
Harvest something: Kale and microgreens
Preserve something: I'm sure I froze something recently but I can't recall
Waste not: Composting, recycling, donating or passing on items instead of tossing them. Recycling at Mom's, which goes counter to her habits.
Want not: Stocked up on spices and staples at the Mennonite store on the way home from Mom's.
Eat the food: Many meals with freezer beef, local eggs, and on-hand staples. Making bread regularly.
Community food systems: Getting eggs from the Cat-Herder's co-worker and giving veggies (kale, this week) in return as they become available. Starting seedlings for friends with less space.

Skill up!: Nothing new here.
You may wonder how I have enough kale to harvest and share this early in the spring. The answer is simple: some of last fall's kale wintered over!