1 Aug 2012
Not Your Grandma's Harlequin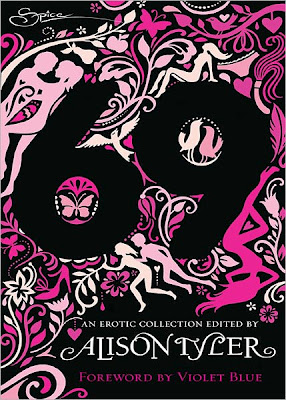 I'm incredibly proud to announce my first publication with Harlequin. Major New York publisher, baby!
If your entire experience with Harlequin is the sweet series romances your grandmother devours, the ones with titles like The Cowboy's Secret Baby and Bewitched by the Billionaire, you may wonder what happened to the naughty writer you know and love. Rest assured, 69: Sultry Short Stories of Need and Desire is a Harlequin Spice title, edited by Alison Tyler, who's sultry herself, as well as massively talented. And while some of the stories may involve romance, my own is a rarity for me. The characters are friends and bondage play partners, and while they love each other in their way, they're not "lovers" in the romantic sense.
Here's a taste:
Sex isn't the point of this relationship. I don't need to know Adam's body more intimately than I do for us to give each other pleasure.
There are other men when I crave fucking and sucking and that whole glorious mess. But Adam is special. I bare my soul more to Adam than I do to the men I fuck. Don't get me wrong. My friends-with-benefits are genuinely friends. But Adam's the one I'll talk with until four a.m.
Besides, Adam knows rope.
The Table of Contents is chock full of amazing authors. (I typed cock full, and was tempted to leave it, but it's only funny if it's not a typo.) I can't recommend this book enough, just by looking at who's in it.
Countdown by Violet Blue
The Kitchen Kink by Alison Tyler
Hare Coursing by Janine Ashbless
Pulse by Vida Bailey
Speed Mating by Sophia Valenti
Permission by Justine Elyot
Star Fucker by John Albert
The Redi-Wash by Jax Baynard
Selections from a Bedroom Closet by Thomas S. Roche
Dress Rehearsal by Sommer Marsden
Good Cop, Bad Cop (a story) by Kristina Lloyd
Come at Six by Portia Da Costa
Plus One by Nikki Magennis
I Dare You by Emma Hillman
Two Ways by Dante Davidson
Manners by Georgia E. Jones
Another Country Heard From by Eric Williams
Frosted Kisses by Vida Bailey
Summoned by Raziel Moore
His by Charlotte Stein
Talk to the Hand by Allison Wonderland
Three Days by Cate Robertson
Reclamation by Willsin Rowe
Open by Donna George Storey
Frozen by Aisling Weaver
The Welcome Wagon by Sophia Valenti
Hot Cross Buns by Shanna Germain
Granny Panties by Sommer Marsden
Touchless by Alison Tyler
Cast Party by Jeremy Edwards
Fall Back by N.T. Morley
Love, Honor and Obey by Janine Ashbless
Permissive by Justine Elyot
Hot in the City by Saskia Walker
Add It Up by Nikki Magennis
Crossed by Dante Davidson
The Funeral by Georgia E. Jones
Floating in Blue by Teresa Noelle Roberts
Suite Surprise by Cate Robertson
Shoulders by Donna George Storey
Saturday by Willsin Rowe
Based on a True Story by Kristina Lloyd
The Barest Offering by Aisling Weaver
Hers by Charlotte Stein
Translation by Sommer Marsden
Dessert by Sophia Valenti
Skill by Aisling Weaver
Attic Moment by Janine Ashbless
Satisfied Customers by Ashley Lister
Closing Distance by Raziel Moore
Friends in Need by Saskia Walker
Homecoming by Willsin Rowe
The Long Afternoon by N.T. Morley
Naked Lunch by Angell Brooks
Just a Kiss Away by Thomas S. Roche
Goes by Sommer Marsden
Waking the Neighbors by Heidi Champa
Ours by Charlotte Stein
Mathematics by Nikki Magennis
Laplanders by Jeremy Edwards
Slave Market in Monochrome by Kristina Lloyd
In the Cold with You by Victoria Janssen
Listen by Emma Hillman
Come at Nine by Portia Da Costa
The Eskimo Game by Donna George Storey
Reflection by Saskia Walker
Permitted by Justine Elyot
Never Alone by Alison Tyler
Every Dollar by N.T. Morley
A is for Anal, Z is for Zenith by Shanna Germain
How Early? By Thomas Roche