2 Nov 2017
Prepare for Lift-off! The Great Space Race is Coming!

Some came for fame and fortune, others were coerced.
Now they must fight to survive.
These couples will find unexpected love… but which team will win? The Great Space Race…
---
Once upon a time (okay, sometime last year), a group of science fiction romance authors started chatting on Facebook. Tossing around ideas. Brainstorming a bit.
And the next thing we knew, we found ourselves developing a shared-world series centering on a futuristic reality show. Octiron, the company behind the show is more than a little sleazy and will do anything to boost ratings, from breaking laws to risking their racers' lives to literally kidnapping people who'd make interesting contestants. And of course they put seemingly unlikely pairs together as race teams. The only thing audiences like better than bickering and in-fighting is sexual tension, so it's a win-win situation for Octiron.
And for our readers, because face it? Those bickering couples who find (sexy) common ground are fun.
In the end, CJ Cade, Elsa Jade, JC Hay, Kayla Stonor, Sabine Priestley, and myself participated. My contribution to the series, Explode: Team Supernova, is out now. JC Hay's Flare: Team Corona is up for pre-order, as is Sabine Priestley's Orion's Gate: Team Galaxy Riders.  The other books will go up on pre-order over the next few days, leading up to a wild official release on November 21.
Tease yourself in the meantime by checking out a free sampler containing the first chapers of our books. (That's the cover above. Candice Phillips Gilmer of Flirtation Designs created it and all our covers–as well as acting as the voice of reason a few times when we were all a little too close to the project.)
---
Explode ties loosely into my Chronicles of the Malcolm series. The cat-girl heroine is the kid sister of Rahal, one of the heroes of Bad Kitty, and she's out to prove she can be just as wild and adventurous as her (in)famous big brother. Of course she's an engineer, so her crazy scheme is a little geeky…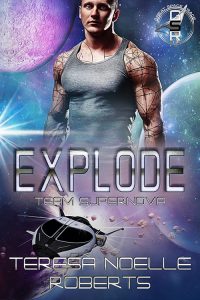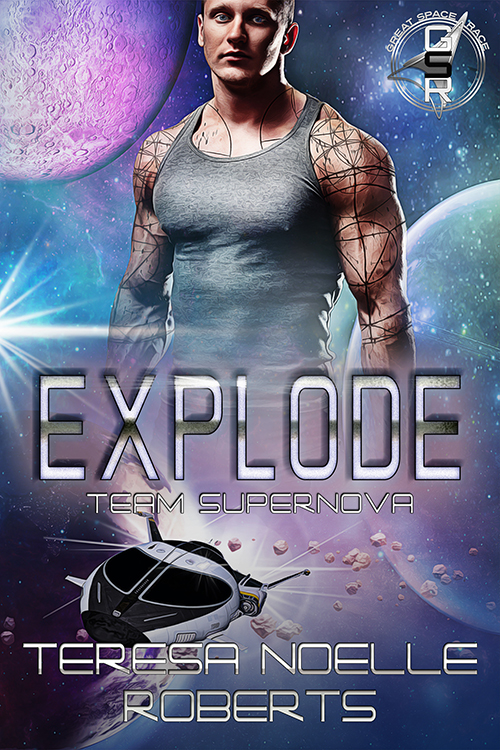 Their chemistry's explosive. Too bad someone wants to blow them up.
Cat-girl space racer Sarr'ma Settazz's plan: Enter the reality show The Great Space Race. Hide she's also an engineer. Steal super-secret technology. Win. Easy-peasy bloxfruit squeezy!
Falling for her grumpy, overprotective, smoking-hot human race teammate? Not in the plan.
Miner Tripp Gallifer's plan: Enter The Great Space Race. Protect his playful cat-girl teammate while she handles the actual flying. Win. Pray the psycho who kidnapped his sister will honor their bargain: Tripp keeps silent about the crime and hands over the prize money, and his sister goes free.
Falling for the brilliant female he glimpses behind Sarr'ma's bouncy façade? Not in the plan.
Then the kidnapper ups the game to attempted murder and all secrets must be revealed—including their feelings. Sarr'ma and Tripp concoct a scheme worthy of the wildest reality show to save Tripp's sister and themselves. But they'll need to trust each other to pull it off. Will their love be enough to let them win the biggest prize of all?
Buy links: Amazon /Apple / B&N Nook / Smashwords / Kobo
Pick up the free sampler while you're at it.
And visit the other great authors taking part in the SFR Brigade Showcase blog hop.