6 Jun 2017
Love, in Stitches…coming 6/10/17 to a book vendor near you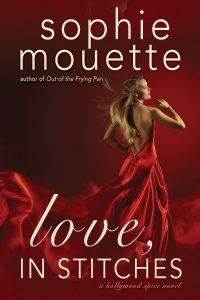 Love, in Stitches, Sophie Mouette's long-awaited second book in the steamy, madcap Hollywood Spice series (think old-fashioned screwball comedy, but no cutting away at the bedroom door) is out June 10, 2017 and is up for pre-order now.
Luanna Deveneax dreams of designing couture fashion. But when she loyally refuses to tell her employer about her side job—secretly sewing custom women's clothing for high-powered LA crossdressers—her high fashion dreams flush right down the toilet.
With his rakish grin, dark, flashing eyes, and tiny gold hoop earring, producer and writer Derek Acosta looks like a sexy pirate. He kisses Luanna's hand, making her weak in the knees…and offers her a job designing costumes for his first movie.
Far from her dream job—and you know what they say about mixing business with pleasure. But in the wild world of Hollywood, dreams come true in the most unexpected ways.
Sophie Mouette expertly weaves a seductive tale of desire, dresses, and delightful romance in Love, in Stitches, the second novel in the steamy and wacky Hollywood Spice series.
Here's a little tease:
Luanna looked past the champagne fountain to the man standing across from her, and her body fizzed as if she'd been dunked in champagne.
She'd like to dunk him in champagne…
Dark, nearly black hair, neatly cut. Swarthy and Latin-looking, but with intensely blue eyes instead of the deep brown the rest of his coloring suggested. His jaw—a strong jaw, but not Superman-square—sported a hint of stubble, not like he hadn't shaved, but like his beard was just that determined. A small gold hoop earring glinted in the lantern light, making him look like a tasteful pirate.
Luanna had always been fond of pirates.
His button-down shirt was deep red, and while Luanna's fashion-oriented brain would have normally picked out the price range, the fiber content, and which big-name designer had been dimly imitated in its creation, she couldn't get beyond the way it draped across his broad shoulders and how great the color was against his dusky skin. The sleeves were rolled up. He had muscular arms, dusted with dark hair.
Yo ho ho, y'all.
For buy links and other details, please visit the Love, in Stitches page on the Sophie Mouette website.