22 Apr 2017
A special kind of sexy…from DRIVE
Welcome to the 186th week of My Sexy Saturday, a blog hop where writers (mostly romance and erotica writers, but we don't discriminate as long as your book has some smexy bits) sahre thematic selections from their work. 7 paragraphs, 7 sentences, even 7 words.
The week's theme is a Special Kind of Sexy. I'm offering a tidbit from Drive. (This may or may not be because it gives me a chance to share the cover again. That cover model is definitely a special kind of sexy!)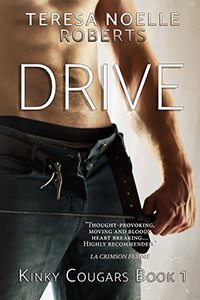 The red Mustang with the FOR SALE sign on it was the second thing to catch Neil Callahan's eyes, even though he'd been looking for it on this tree-lined suburban street of huge, handsome, but cloyingly similar houses. Cookie-cutter, but an expensive cookie cutter. The first thing he noticed was the ass and long, jean-clad legs of the woman cleaning the windshield of the classic convertible.
The car was hot, a vintage Mustang—1965 or so, he thought—in near-showroom condition. Yet the car's current owner drew his attention away from the vehicle. It said something about how tempting that butt was. How firm, yet curvy.
How spankable…
~ ~ ~
Her dream Dom stands between her and danger
Eight months after her (cheating, almost-ex) husband's death, Suzanne Mayhew is ready to move on. First step: sell off Frank's classic cars, starting with the red Mustang he wouldn't let her drive. Second step: explore the deliciously kinky submissive fantasies she's suppressed throughout her marriage.
When Suzanne's best friend sends Neil Callahan—Boston cop, Dominant, and fifteen years her junior—to check out the Mustang, it looks like her kinky dreams have come true. Especially when Neil invites her for an extra-long test drive.
But the Mustang hides Frank's secrets and danger's in the rear-view mirror. Neither seat belts nor safewords will keep Suzanne safe from dangerous enemies—but Neil's got tricks of his own.
Warning: Spies, lies and vile bad guys. A meddling BFF. Inappropriate use of kitchen tools. Completely appropriate use of rope and floggers. And a car that's almost as sexy as the hero—and older than he is.
Amazon US / Amazon UK /Kobo / Apple (iTunes) / Smashword  / Barnes and Noble
Don't forget to check out all the other authors taking part in My Sexy Saturday. They're linked below.