13 Mar 2017
DRIVE is back!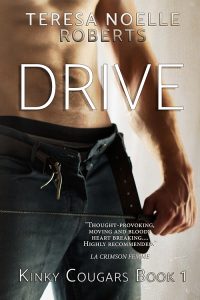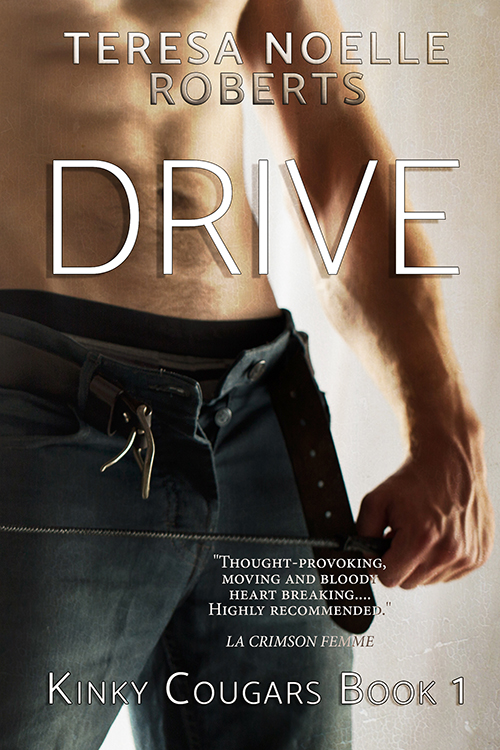 Drive, my last Samhain release, is the first one I'm reissuing.
Mostly because I couldn't wait to show you all this absolutely lickable cover. No Mustang any more, but it's so much sexier.
Amusingly enough, my cover designer (Flirtation Designs) sent me the photo to see how I liked it–and I realized I'd used a shot from the same series for some of my teasers. Clearly, this guy was meant for this book.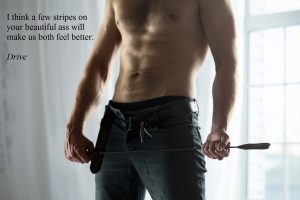 Her dream Dom stands between her and danger
Eight months after her (cheating, almost-ex) husband's death, Suzanne Mayhew is ready to move on. First step: sell off Frank's classic cars, starting with the red Mustang he wouldn't let her drive. Second step: explore the deliciously kinky submissive fantasies she's suppressed throughout her marriage.
When Suzanne's best friend sends Neil Callahan—Boston cop, Dominant, and fifteen years her junior—to check out the Mustang, it looks like her kinky dreams have come true. Especially when Neil invites her for an extra-long test drive.
But the Mustang hides Frank's secrets and danger's in the rear-view mirror. Neither seat belts nor safewords will keep Suzanne safe from dangerous enemies—but Neil's got tricks of his own.
Warning: Spies, lies and vile bad guys. A meddling BFF. Inappropriate use of kitchen tools. Completely appropriate use of rope and floggers. And a car that's almost as sexy as the hero—and older than he is.
Amazon US / Amazon UK /Kobo / Apple (iTunes) / Smashwords  / Barnes and Noble
 Neil's lips reminded her she was truly alive, not just going through the motions of living. His lips and his tongue, the tickle of his rebel scruff, so charmingly at odds with his short, neat cop hair. And oh, those muscled arms around her, pulling her close, making her feel small and soft, but at the same time powerful, desirable. And not powerful because she was desirable. She was both.
Her body filled with almost forgotten hunger. Oh, she remembered desire, felt it often, but for the last few years, even while Frank was alive and well and occasionally having sex with her, desire had grown from fantasies rather than reality. A handsome actor looking buff and commanding on a movie screen, a sexy passage in a book—her Kindle was full of BDSM romances and erotica, some good, some schlocky, but all featuring scenes that set her imagination and libido soaring—a stray thought that sent her mind to dark, delicious places where hard hands and strong bodies and the occasional whip, paddle or toy worked their magic on her.
This wasn't fantasy desire. This was specific. All about the taste of Neil Callahan's lips, the way his tongue invaded her mouth…no, not invaded, because invaders weren't invited in and welcomed with ticker-tape parades, and if her mouth could, it would be throwing a parade right about now. All about the way he smelled like gingerbread in the salt air with its hint of suntan lotion. The way one big hand cradled the back of her head, controlling and tender at the same time. The way his broad chest and back felt as she scrambled to touch as much of him as she could, and if she was making a spectacle of herself, well, it was about time.