27 Feb 2016
The Final Stop for the Best Lesbian Erotica Blog Tour and Giveaway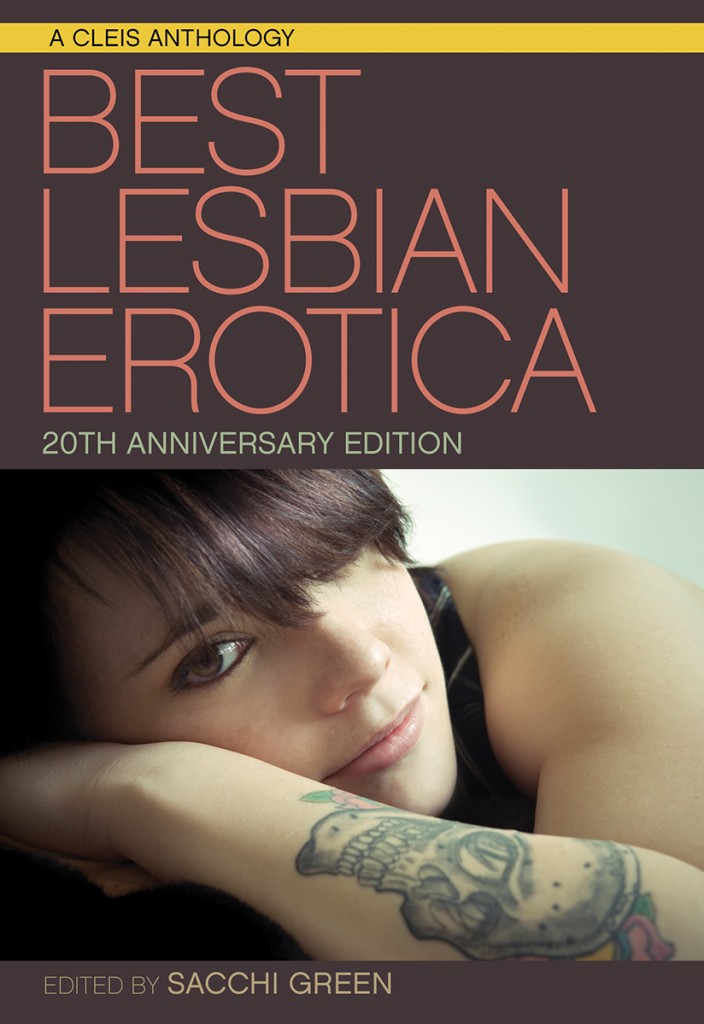 My story in Best Lesbian Erotica 20th Anniversary Edition, "Tomato Bondage," started out as a long-running joke between myself and my husband. We're avid vegetable gardeners–well, I'm avid and he's helpful because he enjoys eating the results–and we grow a lot of tomatoes, mostly the tall, sprawling heirloom varieties that won't be kept in check in a mere tomato cage. No, these monsters require tall stakes, a trellising system and a lot of ties. The process of tying up the tomatoes, which has to be repeated over the summer as the plants grow, has inevitably become known as tomato bondage. We live in a suburban town with neighbors on all sides, and there's a wetland across the street so the mosquitoes are fierce, so we don't actually get our kink on in the vegetable garden…but we certainly joke about it..
When I began to ponder ideas for Best Lesbian Erotica, I knew I wanted to write something kinky, because I enjoy writing BDSM-infused smut. I wanted something about an established couple. As a middle-aged married person, I like showing that long-term partners can still have blazingly hot sex. Besides, while new lovers getting kinky can provide great story scenarios, I feel obligated to include negotiations and talk of safewords and limits–and within the length confines of BLE, I'd prefer to use those words for characterization and/or erotic goodness.
Then,pursuing my interest in gardening and sustainable agriculture, not my interest in things erotic, I read several articles about women farmers. One focused on how, in developing countries, they're often ignored by Westerners who want to help increase agricultural productivity and thus food supplies, but don't understand the "farmers' wives" do most of the hands-on farming in many cultures. Another talked about how many of the small new farms springing up in the US are partly or solely women-run.
Hmm, a lesbian couple who were farmers had story possibilities.
All the elements started playing together in my brain. Then something made me think about our joke about tomato bondage…and a story was born.
Excerpt:
"Well, that's it!" Julia exclaimed proudly. "Two hundred tomato plants in bondage."
"More than that. I counted 208. And we'll have to do it again as they grow."
"But at least we can do that round a little at a time."
I took off my hideous, but useful gardening hat and let the breeze ruffle my short, sweat-damp hair. "Damn heirloom tomatoes anyway."
I smiled as I said it. Julia and I both loved the flavor of heirloom tomatoes, and so did our customers at the farmers' market and the local restaurants who bought from us. But these delicious older varieties grew on huge plants that needed to be supported by stakes or trellises, too big to fit into those wire tomato cages found at any hardware store during planting season. We'd rigged up a trellis system out of the scraps and oddments that farmers tended to save—some had come with the place, stashed away by the old couple who'd run dairy cows here until the market gave out. We'd planted the tomatoes on Memorial Day weekend. Today, they were finally big enough to tie to the trellis, using a combination of string and strips of worn cotton sheets. The farm had come with a supply of those too, forgotten in a linen closet.
The sun had moved closer to the western horizon but still beat down hot on this late June afternoon. Both my arms and Julia's sported a yellow-green coat of what I thought of tomato dust—I'd never learned the technical term for the powdery substance that stained you after wrestling with tomato plants. Julia's forehead was streaked with chartreuse and dirt-brown where she'd brushed away sweat.
She looked amazing. Dirty, but amazing. Defined muscles, built by our shared hard work, in her arms—and, as I knew, her back, abs and thighs as well. The sun caught the reddish lights in her long, dark brown hair. The colors on her skin looked like part of some primal ritual and she could have been the high priestess. No, the goddess.
If I'd look half as good as Julia did covered with tomato dust and glazed with sweat, I'd start painting myself with yellow and brown streaks and spraying myself with salt water before we went out for a night of dancing. Not that we hit the bars of Northampton much between May and September. Occupational hazard of being farmers: our growing-season social life was pretty much nonexistent.
On the other hand, there was lot to be said for the summer months being the Julia and Maggie show. Privacy, work we loved, collaborating with no one but the weather and each other to make our schedules, and did I mention privacy on our isolated homestead?
Privacy, for instance, to slip behind Julia and wrap one of the sheet strips around her wrist. She gasped in surprise, but didn't resist. Not Julia. Instead, she moved her other hand so I could bind her wrists together.

BOOK GIVEAWAY
Admit it, you've kept reading because you saw "Giveaway" in the headline and wanted to know what's up. I'm the last stop on the blog tour, but you'll want to go back and check everyone else. Comment on any of these posts for a chance to win a free copy of Best Lesbian Erotica 20th Anniversary Edition. (That should give you some extra incentive to backtrack through the whole tour–the more you comment, the better your chances of winning!) The drawing will be held by February 28th  (read and comment fast, in other words *cracks whip, rather unconvincingly since I'm a sub*) and the winner announced by March 5th.
BLOG TOUR STOPS:

Feb 10: Sacchi Green-Introduction http://sacchi-green.blogspot.com
Feb. 11: Rose de Fer-"Dust" http://poisonthorns.blogspot.co.uk/
Feb. 12: Louise Blaydon-"Ascension"  https://louiseblaydon.wordpress.com/
Feb 13:  Megan McFerren-"The Royalty Underground" http://sacchi-green.blogspot.com
Feb. 14: Harper Bliss-"Reunion Tour"  http://wp.me/p2tvlj-Yn
Feb 15: D.L. King-"Hot Blood" dlkingerotica.blogspot.com
Feb 16: Jean Roberta-"Tears from Heaven" http://jean_roberta.livejournal.com
Feb 17: Sinclair Sexsmith-"Luscious and Wild" http://www.sugarbutch.net
Feb 18: R.G. Emanuelle-"Smorgasbord"http://sacchi-green.blogspot.com
Feb 19: Rose P. Lethe-"A Professional" https://roseplethe.wordpress.com/2016/01/31/excerpt-the-professional/
Feb 20: Anna Watson-"Easy"http://thetotalfemme.com
Feb 21: Valerie Alexander-"Grind House" http://www.valeriealexander.org
Feb 22: Annabeth Leong-"Give and Take" annabethleong.blogspot.com
Feb 23: Frankie Grayson-"Mirror Mirror" http://sacchi-green.blogspot.com
Feb 24:  Cheyenne Blue-"The Road to Hell" www.cheyenneblue.com
Feb 25: Emily L. Byrne-"The Further Adventures of Miss Scarlet" http://writeremilylbyrne.blogspot.com
Feb 26: Sossity Chiricuzio-"Make them Shine" http://sossitywrites.tumblr.com/
Feb 27: Teresa Noelle Roberts-"Tomato Bondage" http://www.teresanoelleroberts.com/?p=2185
 Buy links: Cleis / Amazon US /Amazon UK / iTunes / Barnes & Noble / Google Play / Kobo