17 Oct 2015
Enemies To Lovers Stories With Cynthia Sax
Cynthia Sax is visiting today with a post on the enemies to lovers trope and a bit about her newest book, which I simply have to read.
#  #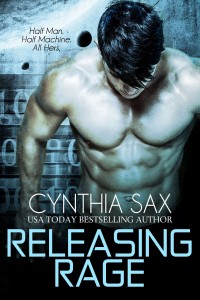 "The opposite of love is not hate, it's indifference." – Elie Wiesel
One of my favorite storylines in SciFi romance is enemies to lovers. The couple (or more) starts the story hating each other with a fierce, world-burning passion. They end the story loving each other with the same ferocity.
Teresa does this storyline oh so well. (Edit: Thank you so much, Cynthia!) As Rahal says to Xia in Bad Kitty, "You make death threats seem like the most erotic thing ever." There's the hint of danger throughout the early scenes. We're not sure if the temporary peace between them will hold.
In Releasing Rage, my most recent story, Rage, the cyborg hero, has been tortured by his human handlers over his entire lifespan. He hates humans with an all encompassing passion, an unrivaled fury. He sees no redeeming qualities in humans and plans to kill as many of them as possible when he escapes.
Joan is the human female assigned to be his engineer. She's aware of his hatred for her kind. It isn't a secret. Rage brutally murdered his previous engineer and she sees the carnage he caused. She knows if she makes one wrong move, she's dead.
Even I didn't think she'd make it through their first meeting alive. Rage was a hair trigger away from killing her throughout the entire scene. This constant will-he or won't-he tension is one of the many things I love about the enemies to lovers storyline. We're never quite sure what will happen.
I also love the premise that our enemies might be the very beings who best understand us. Rage, hating all humans, is aware of how different Joan is. She is an outcast and he sees this early in their relationship.
Most of all, enemies to lovers stories give me hope. If Rage and Joan can learn to love each other, then maybe we can learn to love people who are less hostile toward us. There's hope for us and for the world.
What do you love about enemies to lovers stories? What are some of your favorite enemies to lovers stories?
***
Blurb
Releasing Rage
Half Man. Half Machine. All Hers.
Rage, the Humanoid Alliance's most primitive cyborg, has two goals–kill all of the humans on his battle station and escape to the Homeland. The warrior has seen the darkness in others and in himself. He believes that's all he's been programmed to experience.
Until he meets Joan.
Joan, the battle station's first female engineer, has one goal–survive long enough to help the big sexy cyborg plotting to kill her. Rage might not trust her but he wants her. She sees the passion in his eyes, the caring in his battle-worn hands, the gruff emotion in his voice.
When Joan survives the unthinkable, Rage's priorities are tested. Is there enough room in this cyborg's heart for both love and revenge?
Buy Now:
On Amazon US: http://www.amazon.com/Releasing-Rage-Cyborg-Sizzle-Book-ebook/dp/B00ZOL1DRO
On Amazon UK: http://www.amazon.co.uk/gp/product/B00ZOL1DRO/
On ARe: https://www.allromanceebooks.com/product-releasingrage-1850041-340.html
On B&N: http://www.barnesandnoble.com/w/releasing-rage-cynthia-sax/1122455646
Bio
About Cynthia Sax
USA Today bestselling author Cynthia Sax writes contemporary, SciFi and paranormal erotic romances. Her stories have been featured in Star Magazine, Real Time With Bill Maher, and numerous best of erotic romance top ten lists.
Sign up for her dirty-joke-filled release day newsletter and visit her on the web at www.CynthiaSax.com
Website: http://cynthiasax.com/
Newsletter: http://tasteofcyn.com/2014/05/28/newsletter/
Facebook: facebook.com/cynthia.sax
Twitter: @CynthiaSax
Blog: http://tasteofcyn.com/