30 Jul 2015
Cover Reveal: Bad Kitty
I suppose I've "unofficially" revealed the cover for my September 22 release Bad Kitty (Chronicles of the Malcolm, book 2). It's on my home page, and since it appears on Amazon and Samhain, it pops up whenever I share a book link. But it's high time I made a big deal over my beautiful cover and told you a little about the book.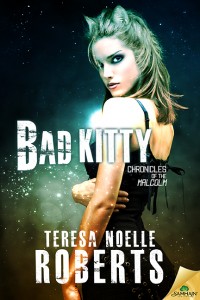 This is Xia, my cat-girl assassin heroine. Isn't she lovely? For some reason, there isn't a lot of stock photography of sexy aliens, so my talented cover artist Kanaxa and I went back and forth a few times to get her just right. I love Kanaxa. She did the cover for Thrill-Kinky as well, and I hope she'll do the covers for the rest of the series. My only regret was that we couldn't put Cal (aka Karn–he's incognito for much of the book) and Rahal on the cover, but for some reason we couldn't get this guy to pose as Cal.
And Rahal looks like a Japanese manga artist (make that a hentai artist–that's the sexy stuff) imagined the love child of Johnny Depp and a black panther. Talk about hard to find stock photos!
The book is up for pre-order at all the major sites except for Samhain. It's featured on Samhain's site, but you can't actually pre-order there until August 22. Oh well…impatient folks can go elsewhere to pre-order!
Blurb:
When you make the Devil's bargain, be prepared to take the heat. A lot of heat.
Most of Xia's early memories are repressed, thank the Great Cat Mother. But her body remembers how to kill.
The longer she and her fellow Malcolm crewmates are holed up on Cibari hiding from assassins, the twitchier she gets—until the planet's insanely sexy warlord, Rahal Mizyar, borrows her skills to take out slavers.
Rahal suspects Xia is his mate, but the human-raised female never learned the finer points of felinoid rituals. The solution: make her fall hard and fast for him, even if it means playing dirty.
Hired to determine if Xia is the long-missing granddaughter of the felinoid prime minister, Cal Janssen has finally tracked her down. Getting past Rahal, though, is a problem—until he's mistaken for a notorious arms dealer and playboy. And he finds himself the object of both Rahal's and Xia's seduction.
When their first mission brings Xia's memories bulleting back to the surface, she realizes she's fallen for two men who don't exist. Running away, however, could be her deadliest mistake.
Warning: Contains an assassin with a swiss cheese memory, a badass warlord who's getting tired of his own con, and a freelance lawman. Secrets, lies, and hot sex with no rules.
Buy Links: Samhain / Amazon US / Amazon UK /Kobo / Barnes and Noble / All Romance Ebooks