10 Jun 2014
Slave Girls Blog Tour: A Little Background on "Bridle Party"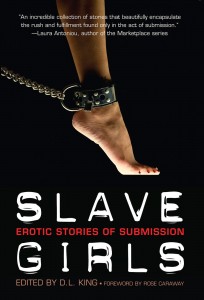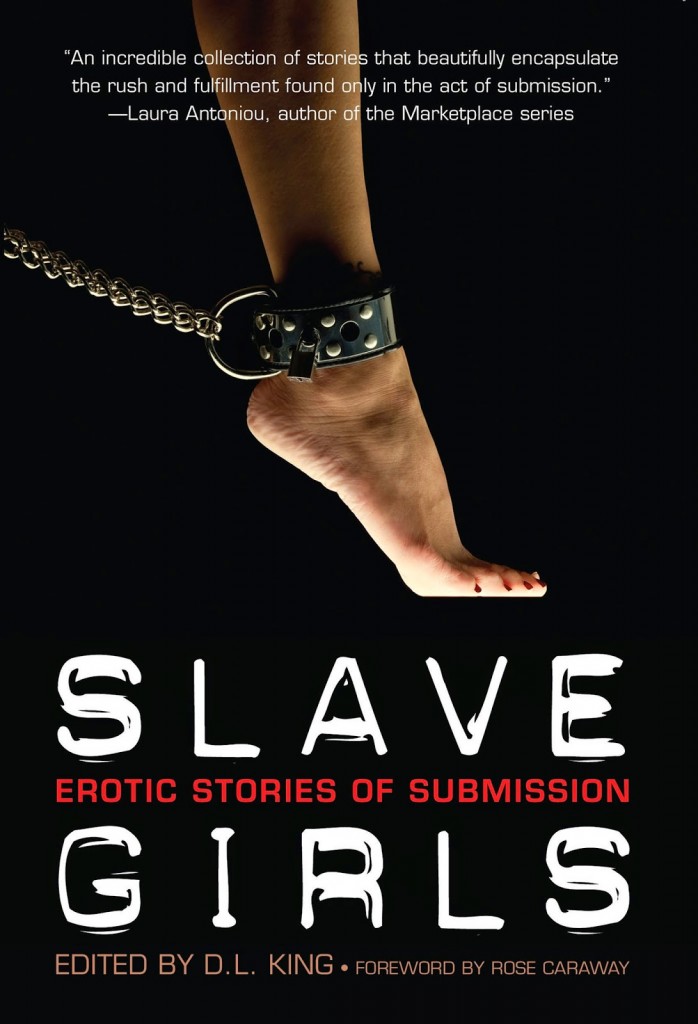 Welcome to the next stop on the Slave Girls blog tour!
One of the strengths of good erotic fiction, and Slave Girls certainly fits the bill, is that it can let you beyond the trappings of fetish, even beyond the visceral pleasures of sex, into the human heart. This book is full of kinks and fetishes, from the standard bondage and pain play to less common ones, edgier ones such as breath play and, in my case, pony play.
Only the point isn't just the hot kink. It's what the hot kink reveals about the people involved, and about the nuanced Master-slave dynamic, which on both sides is about both power and vulnerability.
My story, "Bridle Party," is about a slave's introduction to pony play.
And it isn't.
It's about obedience to a Master's whims.
And it isn't.
At its heart, "Bridle Party" is about submission as a path to growth. This is a short story, taking place over one brief afternoon, so we're not talking huge life-altering epiphanies and drastic changes. But by the story's end, Myra has worked through a mental block that held her back – and it's because her role as a slave allows her to do so.
Don't worry. The story includes prancing pony-girls and pony-boys, human dressage, Dominants being pulled around in carts by their subs, and of course, incredible outfits. These trappings are part of what makes pony play so fascinating. It's pretty. How could I not? The outfits and performances and fantasy are part of what makes it fun! Even people who figure they'll never put on a tail, a bit, and blinders can appreciate the appeal of something that combines sport, dance, fashion, and childhood games with a healthy dose of kinky sex.
Julie Peterson, dressed in a steampunk-styled dark green riding habit, was in one of the carts, being pulled by Bob. The usually intense lawyer looked more content and relaxed pulling a cart, while wearing ears and a tail and sporting a harness rig and bridle, than he looked in his normal clothes; he adeptly following the silent commands Julie gave with her reins. Two women in elaborate plumed and maned headpieces with bridles and blinders, beautiful hoof boots and matching harness rigs did what appeared to be dressage under the direction of a man who smiled like a kid with the best toys in the world as he worked with them.
But the real heart of the story is the bond of trust between Master and slave, and a slave's willingness to push past old fears and self-imposed restrictions to please her Master…and in the end, let herself be freer and stronger than she imagined she could be.
"You needed the order, didn't you? Needed me to push you."
"I couldn't…on my own. But I'll obey you, even when it scares me. Maybe especially when it scares me." Pleasure built, obliterating the fear, or at least putting it in perspective. She belonged to Zan, and she'd take risks to obey him that she wouldn't take on her own. And in return, he gave her this freedom to rise above her limitations, to be braver.
For me, that idea is the heart of a particularly appealing kind of Master/slave relationship, that in a relationship where the sub is in some ways dependent and subordinate, she or he can also find room to grow and wings to soar.
Or in this case, hooves to gallop.
Photo Credit: Pony Play (C) Ruth Tolman, www.ruthlessphotography.net. Some rights reserved. This work is licensed under a
Creative Commons Attribution-Noncommercial-No Derivative Works 3.0 License.
Buy links: Amazon US / Amazon UK / Amazon Australia /Cleis Press /Barnes and Noble /Powell's