16 May 2014
Sommer Marsden brings us Poster Boy for Average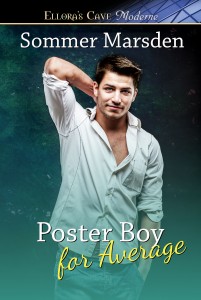 Sommer Marsden, who's anything but average, is paying us a visit today with yet another new release. Poster Boy for Average released earlier this month from Ellora's Cave, and it sounds like a lot of fun. Sommer, I really want to know the secret of how you write so many wonderful books. Except I already know the secret: you work hard. (I'd much rather believe you had a sexy genie who stretched time for you or something, but I'm pretty sure the answer is a great deal of hard work.)
Without further ado, here's Sommer!
A lot of my characters happen to work for themselves. Hmm…odd. Not really! I've worked for myself for about 14 years now. Sometimes earning hardly anything (back in the beginning) and sometimes earning well more than I ever did in an office (trust me, I partied those years). The point being, I love to write independent business women. I love to write people following their passions.
Aubrey isn't just a photographer. She took her passion one step further by designing covers for novels. I funneled some of my amazement for covers designed for me over the years into her work. I made sure Aubrey had an eye for it, but more than anything, a passion for it. Because I believe if you follow your passion, amazing things can happen. Like meeting a handsome, wonderful roofer who deserves your attention. From behind the camera and otherwise.
XOXO
Sommer
Blurb:
Indie photographer and book cover artist Aubrey Singleton is living up to her last name. A long summer at the lake has cured her of her recent breakup, and she's embracing life as a single woman. What she's not prepared for is to come back home to find she has a handsome new single neighbor.
Mike Sykes is a roofer—though he's afraid of heights—a father of two and recently divorced. Oh and one might classify him as smoking hot.
The photographer in Aubrey is smitten, the single woman in her is breathless. She's ready to make Mike a star—on book covers and, though she's wary of a broken heart, in her life. He's not so sure. Mike sees himself as a life complication due to his younger son's illness, and not hot by a long shot. In fact, he thinks he's the poster boy for average.
But a "business" trip to Key West, rife with hunky models, sets a backdrop for a shot at true love…
Excerpt:
Aubrey snatched her hand back quickly. "Sorry. Occupational hazard. I usually…you know. Help, arrange, pose, poke and prod the models. Whatever you want to call it."
"Poke away," he said, nodding.
She made the mistake of looking him right in the eye for a heartbeat. Big mistake. It was mesmerizing, that gaze of his. His lips curled up into an even more amused expression and she bit her tongue to keep from crying. She felt like the giant punch line to an unknown joke. Why did the roofer dislike the photographer? To get to the other side!
Aubrey poked his rock-hard belly. Just to see what he'd do. The muscles flexed and he grabbed her wrist. There it was again, her thundering pulse.
"Just remember if you poke me enough I might poke back."
She swallowed hard and nodded. "Good to know. This way."
He dropped her wrist and followed her down the deck. She waved at the overgrown-but-somehow-picturesque box garden.
"We'll start here. The light is good. And then maybe by the tree, like I said. Then the basement. You have a body that was built with work. So let's show it off."
"Working in the garden?" He chuckled.
"Well, the garden would be a good neutral backdrop for the pics. That way I can play up the foliage around you or fade it out. Either way, being out in nature certainly won't harm a picture of a body like yours."
"Poster boy for average," he muttered again.
She flicked a finger at him, now in her element. "Not even close, man. Now take off your shirt."
His eyebrows shot up but he obeyed. Aubrey fought the instinctual urge to touch what she was looking at. She was a pretty tactile photographer, often posing subjects as if they were her own personal Ken and Barbie dolls. Truth be told, there were more Kens, but the occasional Barbie showed up in the mix.
"I like that look. Grab that shovel." She nodded to one propped by the fence. "And climb in there. Let the growth swallow you up."
"Seriously, Aubrey, if there's poison ivy in here I'm going to spank you," he muttered. Mike was facing away from her when he said it so he didn't see the sudden rush of color that must have come into her face, but she felt it.
"There isn't. I double-checked. Plus, Bradlee was letting Laura roam around in here the other night. Trust me, if that happened, there is no poison ivy in here."
He squinted against the sun, gripping the shovel. When he came back toward the garden, he nodded. "I hear you. She's a bit of a mother bear, your sister. Not that there's anything wrong with that in this day and age. Parents need to be that way."
Aubrey raised the camera. Got him in frame. She liked the way the sunlight seemed to peek over his shoulder and roll down his belly. But the belly needed more highlighting. "Hold on," she said and darted over to the picnic table. Nearby was a potting stand that also held bug spray, sunscreen and for Laura's visits an economy-size bottle of bubbles.
She snagged the sunscreen and ran back, almost tripping over a wayward pumpkin vine that had snaked out from the far corner of the yard. She almost righted herself, stumbled again, then hit the lip of the garden bed and sprawled forward. Almost. Instead of hitting the dirt in a tangle of jalapenos and tomatoes, she hit a broad-chested man in a flying tackle. He stopped her momentum easily and she got a face full of man-chest.
"Oomph," she said.
"You okay?"
"I'm…" She was addressing a mole two inches above his left nipple. She could smell soap on him and some very subtle cologne and sunshine. "Yes, I'm a bit clumsy."
"No worries. Me too."
"You're a roofer!"
"And afraid of heights and still a roofer." He touched her nose and Aubrey felt as if he'd touched some naughty part of her instead. She tilted her head back to look at him. It was hard not to be captivated by the way small little lines appeared at the corners of his eyes when he smiled.
"I need to rub you," she said. Then she heard what she said and groaned.
"Well, I've never had a woman be so very blunt about it before."
It was easy to see by the way he was pressing his lips together that he was trying very, very hard not to laugh in her face.
"With lotion!" she said.
Buy links:
Ellora's Cave: http://www.ellorascave.com/poster-boy-for-average.html
Amazon: http://www.amazon.com/gp/product/B00K0J0LLO/ref=as_li_tl?ie=UTF8&camp=1789&creative=390957&creativeASIN=B00K0J0LLO&linkCode=as2&tag=sommmars-20&linkId=W3DYE53RUZ5AWARZ
ARe: https://www.allromanceebooks.com/product-posterboyforaverage-1498148-149.html
About the Author:
Professional dirty word writer, gluten free baker, sock addict, fat wiener dog walker, expert procrastinator. Called "one of the top storytellers in the erotic genre" by Violet Blue, Sommer Marsden writes for HarperCollins Mischief, Ellora's Cave, Excessica, Xcite Books and Resplendence Publishing. She's the author of numerous erotic novels including Poster Boy for Average, The Accidental Cougar, Lost in You, and Learning to Drown. Visit http://sommermarsden.blogspot.com