26 Apr 2014
Guest Blog: Sommer Marsden Introduces THE ACCIDENTAL COUGAR
(Before Sommer gets going, I have to jump in and say I had to invite her to guest-blog here because I love, love, love that title. Also, that Sommer has a great shape-shifter series, but her cougar Abby, unlike Jack from Cougar's Courage, isn't the kind with fur and a magnificent tail. She's pretty wild and magical in her own way, though.)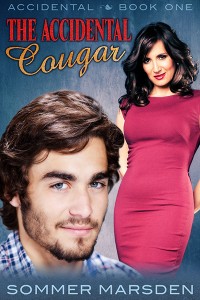 "…and something weird was beginning with my neck."
Like any woman in her 40s when dealing with a 20-something (naked or otherwise), my main character Abby can be a bit self-conscious. However, the thing I've noticed is we're (women, I mean) fairly self-conscious all through our lives. Not all of us, but a great majority of us. In The Accidental Cougar I was determined for Abby to be brave.
I know so many women who are reaching their 40s or are already in their 40s who are finally learning to love themselves. Myself included. We're learning to embrace ourselves despite the fact that our bodies aren't the same as they were when they were 20. Or 30. But then again, the 50s, 60s and 70s are coming so what better time to learn to be proud of yourself inside and out. Why not learn to be amazed with what we're capable of physically, emotionally and mentally at every age?
Now is the time to learn this lesson for many of us.
I made sure funnel all that into Abby. I wanted her to see herself for the gorgeous woman she is. I wanted her to see herself as her young lover Charlie sees her. I tried my best to make it as honest and real and yes, a bit humorous, as I could.
We should never rule out learning amazing lessons from those younger than us, am I right?
XOXO
Sommer
Excerpt:
Charlie froze and I felt so bad for startling him. But then he dropped to the bed next to me, pulled me into his arms and began to stroke my hair. "What's going on in that head of yours, Abby?"
I shuddered, more mortified than upset now. "I am so so sorry." My words stumbled over each other, my tongue tripping over itself. "I have no idea—" I shrugged. "I just think it's been so long and—"
He smiled down at me and kissed my fingers. "Sex can be emotional. I am choosing to see this as a compliment."
I laughed, my whole body shook with sudden amusement. And I found that I didn't care.
I didn't care that my breasts weren't as perfect as they'd been when I was twenty. Or that I had that small belly pooch that short of an electric carving knife or plastic surgery I couldn't afford was never going away. Or that I had small lines around my mouth and something weird was beginning with my neck. I didn't care because when I was with him I felt so damn beautiful. So wanted that I felt like I had nothing to worry about.
To Charlie I was beautiful and in that moment I was even more beautiful to myself.
"And brave," I whispered, not meaning to say it aloud.
"And brave what?" He stroked my hair, still damp from my preparatory shower.
"To sleep with you," I said. Then I laughed at the shocked look on his face.
"Am I that beastly?" he asked, trying to keep a straight face.
"No!" I squeaked, swatting his chest playfully. "What I mean is, it can be daunting. Someone like you."
"Like what?"
"Someone as young and handsome and fucking…buff," I said.
Charlie played along by flexing his biceps to make me laugh again. "I'm Hans…" he started, reviving an old Saturday Night Live skit. At his age God only knows where he'd seen it. Probably Youtube.
I craned my neck up and kissed him quiet. "You know what I mean, Charlie," I said. "To you this might make perfect sense. It seems to."
He watched me, finger skating along my bare hip raising up goose bumps as he stroked. He didn't try to cut me off, just kept his mouth shut and waited.
"But for me, I kind of shake my head sometimes and wonder how I got here." I smoothed my hands along his chest just to feel his warm, supple skin. "I was considering an online profile for people over forty just a week ago." I snorted and that made me freeze and then giggle. He smiled. "And now…I'm having amazing spontaneous take-me-now sex with you."
"Hans," he said, managing to keep a straight face.
I shook my head. "Just Charlie. Charlie who makes me smile."
Blurb:
What would be the harm in a little fling? What would be so bad about bedding a young man who could technically be my son? He wasn't my son. He wasn't my anything. But he could possibly, if I could unclench my ass long enough, be my lover.
My lover.
What was so bad?
Buy Link:
http://www.excessica.com/books/index.php?main_page=product_info&cPath=2&products_id=697&zenid=4dbc1d3daf5d78126c7184b937b28d4d
Also on Amazon, Amazon UK, All Romance Ebooks and many more!
Author Bio:
Professional dirty word writer, gluten free baker, sock addict, fat wiener dog walker, expert procrastinator. Called "one of the top storytellers in the erotic genre" by Violet Blue, Sommer Marsden writes for HarperCollins Mischief, Ellora's Cave, Excessica, Xcite Books and Resplendence Publishing. She's the author of numerous erotic novels including Lost in You, Restricted Release, Boys Next Door, Restless Spirit, and Learning to Drown. Visit http://sommermarsden.blogspot.com
Sommer's on a blog tour, so be sure to check out her other stops!