9 Dec 2013
Holidaze! And a Holiday Book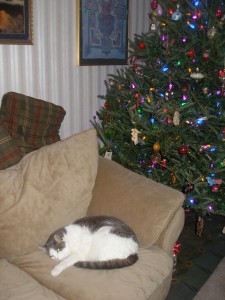 Last night, I went to my first holiday party of the 2013 season. My friend A. has an annual holiday tea and each year features a different theme cuisine. This year was French.
So so when we got to the "tea," we found A. pouring champagne. Win! Oh, we got to tea eventually. Lavender Earl Grey is amazing and I need to buy about fifty pounds of it. And there were sandwiches on baguettes, and savory palmiers, and pots de creme (chocolate pudding for grown ups), and tarte tatin with caramelized apples and buttery pastry. And friends I hadn't seen in far too long. And did I mention champagne?
It snowed overnight, just a dusting, and between that and the party, I'm now in the holiday spirit. Our tree isn't up yet–the picture on the left is from last year–but I'm listening to holiday music as I work. I'm far from "ready". I haven't started shopping yet, except for my mother, and I need to get her gifts wrapped and mailed. (Good times at the Post Office–not!) We haven't decided what we're eating on Christmas, though we have Yule pretty much set. (We celebrate both holidays. Any excuse to celebrate at this dark time of year.) But I'm mentally ready, which I wasn't before.
And in that spirit, I'm offering a naughty excerpt from one of my few holiday-themed books, A Satyr for Midwinter, below: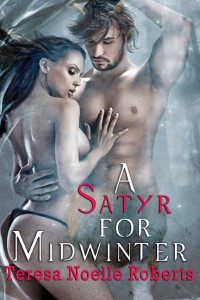 When Laeca ever so delicately licked his horn with a tentative tongue, Kallios knew, though, that it was all a dream.
No, he'd died at Laeca's feet in the courtyard at Thermanae and joined Agapios in the afterlife. But since his last earthly sight had been Laeca's beautiful face, he was imagining her in place of whatever amorous dead lady was welcoming the two of them to paradise.
As he thought that, Laeca stopped what she was doing. "I'm no spirit, although I'm honored you think I'm too good to be real. This is me, Laeca. Don't forget it."
She'd read his thoughts! But most humans couldn't do that…
"I can't either." She grinned. "But Agapios can. And he snitched."
Then she delicately swirled her tongue around his horn.
"It's not like a cock," he managed say between pleasured gasps. "The tip…feels wonderful…but the base is most sensitive."
She grinned and complied, licking down to where the stubby horn met his forehead.
The sensations her tongue caused were at least as erotic as her mouth on his cock would be. Maybe more so. Satyrs often enjoyed physical pleasure lightly. A blowjob was always delicious fun, but it might mean no more than sharing a flask of wine with a friend or splashing in a pond together on a hot day. Horn-play was intimate, though, something you shared only with those you really trusted and cared for.
His erection, already strong, turned to something forged from iron.
He moaned and pressed against her, seeking entrance to her sex. Nothing could be better than being inside a woman while she licked around your horns–unless, of course, it was having someone inside you while he licked your horns.
"No, the only better situation is enjoying both. I think I can still fuck you, beloved. At least I can make us both feel like I am. Would you like that while you enter your beautiful human?"
Would he ever! They'd played that way many times over the years, as often as they could get a female friend or adventurous human to join them, and it had always been great sport. But now it would be far more–a beginning and, sadly, an end, because it wasn't right for a ghost to linger too long in the land of the living and sooner rather than later, he'd need to find the courage to say goodbye to Agapios.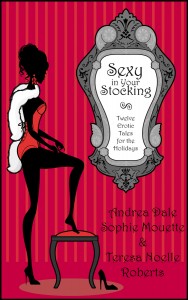 And if you'd prefer something less fantastical for your holiday warming read, check out Sexy in Your Stocking.