7 Jun 2016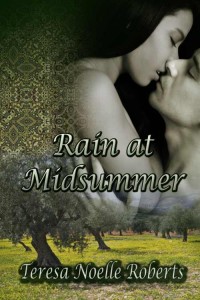 (A great deal of this post is a reprise from 2014.)
Rain, or lack thereof, is always an issue for gardeners and farmers. People who don't garden as seriously as I do revel in two summer weeks without a cloud in the sky, but I'm panicking and raising my water bill dramatically. Real farmers, people who rely on their crops for a living, experience this feeling a thousandfold.
Imagine what concern a dry spell must have caused in a time and place entirely dependent on foods grown on local small farms, a time and a place with no faucets and water supplies pumped in from miles away, just primitive irrigation and water-storage technology.
The Summer Solstice is approaching in the Northern Hemisphere. It's one of my favorite holy days of the pagan year, and one of my favorite times of year in general: a celebration of light and abundance and sexuality and the fruits of the land. It's the longest day of the year, marking the first official day of summer…and the fact that from now on, the days get shorter even as the heat gets stronger and lettuce and strawberries give way to tomatoes and peaches. The Summer Solstice is also our wedding anniversary. (About the only traditional thing about our wedding was that it took place in June, and that's harking back to a seemingly ancient tradition of weddings at Midsummer as well as to contemporary paganism's association of the day with the marriage of the Lord and Lady.) Conveniently, the actual moment of the Solstice this year is 12:24 AM on June 21, which gives us an excuse to stay up late celebrating and to celebrate over the course of two days. Actually 3 days because we only could get the reservation at our favorite restaurant on June 22–it's that popular!
With the approaching Summer Solstice in mind, it seems natural to highlight one of my backlist titles, Rain at Midsummer (Seasons of Sorania Cycle 2). Like many of my books, this fantasy romance involves sex-magic, and love-magic, and healing. In this case, you can probably guess the function of the sex-magic…but maybe not the details of the story. I write a great deal about consensual slavery, BDSM-style. This book involves nonconsensual slavery. The heroine escapes a cruel master – and then needs to learn what to do with a freedom she never expected and what role she can play in a society very different from the one she grew up in. The hero is a free man trapped in a role he never chose.
Can they find true freedom together?
Of course there's also and smoking-hot sex and some meddling deities. But at core, it's about the nature of liberty.
An escaped slave daunted by freedom. A nobleman fighting his destined birthright. Their love defies logic, but when the spirits of the land speak, you'd better listen.
Nikos curses the day his brother died and left him as Lord of Thermanae. What's an educated man to do in a place so backward his tenants expect the Lord and Lady of the estate to bring rain through sex-magic? Jaenna, a runaway Kulchu slave, curses the fate that forced her to flee a murderous master to the neighboring Soranian Empire. Freedom means frightening choices for a woman whose entire life has been spent serving men's sexual whims, and she can't communicate with the spirits of the land enough to work the healing magic that might earn her a respectable place here.
The forbidden desire that burns between Nikos and Jaenna could save them both, if they see beyond what they think they know. But it takes desperate need—and advice from a madwoman who may be crazy like a fox—for Nikos to see that magic isn't merely a metaphor and Jaenna to learn that love is the most powerful magic of all.
Excerpt (a bit racy, yet showing the theme):
"Let me try." Dela's Kulchu was as good as his; given the long tug-of-war over the territory, most Thelanese were bilingual. But if there was a Kulchu woman in there, she was likely to respond to a male voice of authority. Nomad women were raised that way.
"Come out, woman," he said. That should work even better if it was a man in there. He'd come out bristling, eager to prove his manliness.
And since Dela was a bit closer, she'd be the one to hand him his balls. Pure comedy.
"Ha Khairi," a small, nervous female voice responded. Yes, Master.
The girl who crawled out from under the bush was covered with dust, her hair so matted and dusty he could hardly tell the color. Dark, he thought, but how dark he couldn't say. She was wearing fragments of something scarlet that must have been skimpy even when it was intact—it might have passed for a shortish underq'misa in civilized parts. She looked like she'd been sleeping rough without any kind of preparation or training for it, and she was visibly shaking and darting terrified looks from him to Dela and back again as if they were monsters with three heads.
And despite all that, she was beautiful.
Big dark eyes. Tall, as Kulchu often were, almost as tall as Nikos himself, but delicately and elegantly built. Well-muscled legs, high, full breasts, round hips: the kind of beauty that could drive a man to despair or heaven. Cleaned up, she'd be lethal.
A few more wild looks and then she sank to the ground. For an instant he thought she was fainting, and reached out to catch her.
But in a controlled movement marred by only a little swaying, she knelt before him on the rocky ground, stretching out on the ground to almost touch his boot in gesture of submission so graceful it made him ache inside, ache with pity and something else he didn't want to examine.
She was a slave.
A woman who for years—from birth, for all he knew—had been trained for nothing other than pleasing and pampering and taking care of a man, trained to follow orders and not think too hard.
The pleasing part was, well, dangerously pleasing. It was all too easy to imagine the tatterdemalion figure cleaned up, wearing a few choice jewels and nothing much else, applying that particular intensive education to him. He was only human, and the gods hadn't made humans to be celibate for nearly as long as he had been.
The rest moved him to an uneasy mix of disgust and compassion. It made him sad enough that his mother was a ghost among the living since his father died, unable to rise above her sorrow, unable to see that there was a life for her without her husband in it. It had gotten worse since his brother and sister had died within the same year. And his mother was a physician, a woman who'd been respected in her own right, not only as the Lord's wife. A slave, a woman raised to be completely dependent on male whims, seemed a thousand times sadder to him, a thousand times more backward than the Thelanese traditions he found depressing enough.
Sarakia [his maybe-fiancee] was nothing like that. She was a thoroughly modern, cosmopolitan woman. Had her own friends, had her work in her family's spice-trading firm, would certainly be sad if something happened to whatever lucky man she ended up marrying, but would go on with her life. And certainly wouldn't make a fool of herself kneeling to a man.
Which, Nikos' cock took chose that instant to remind him, was a pity. You wouldn't want a woman to spend her whole life on her knees, but sometimes a woman kneeling in front of you could be fun for all concerned.