15 Jul 2014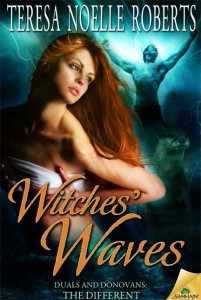 The ocean is on their side. But the fight is on land—and it's about to get dirty.
Witches' Waves is up for pre-order now on Amazon or Barnes and Noble. This is a big deal. I mean, "Deck" can barely keep his towel on in his excitement. (Hey, we can dream!)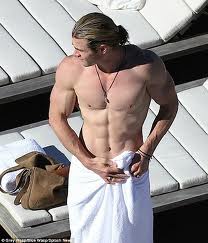 And in honor of this big news, and the fact it's "Teaser Tuesday," here's a little bit of the book's beginning.
"I'd like you to take me to the ocean for my birthday." Meaghan forced her voice to stay calm, to make the request seem utterly bland, like she was an ordinary young woman who wanted to do something particular on a special birthday. Forced herself to turn in her chair and look toward Garrett, her nurse and caregiver. Most sighted people seemed perturbed that she could meet their eyes as often as not, but not Garrett. He said it was a combination of attention to detail and her magic.
Shaw always said the same thing but she wasn't going to think about Shaw now.
Any more than she was going to dwell on the minor issue that because she'd lived in this Agency hospital since she was a child, she wasn't sure what state she was in, let alone how close they were to a beach. If she spoke calmly enough, maybe Garrett would just go along with it. Sometimes he would bend the rules for her, but this went beyond bending and into outright shattering.
Especially since she had no intention of coming back. She suspected Garrett knew it.
He knew she was weary of being the Agency's pet seer, a prisoner even if they called her a patient. Knew she was dying. Maybe that was why he wasn't saying anything.
She had to break the silence. "Or a lake, if the ocean's too far away. I just want to be near water. Outside the compound and near water."
She felt Garrett smile at her. She could do that sometimes, when she concentrated, but only with him. It might be because he was Different too, like her, or maybe he smiled more profoundly than most people at the research hospital. "I wish I could, sweetie. It's a couple of hours to my favorite beach, but that's worth it for a special day. On a week day, it's so quiet and peaceful we'd probably have it to ourselves. But I don't think they'll let me take you that far. You're so delicate. They wouldn't want to risk you."
She sighed. "Garrett, I'm not delicate. I'm dying from a neurological disorder. I'm about to turn twenty-three and I'm not likely to make it to twenty-four. But I'm not dying in a way that a day at the beach will make worse."
Unless her plan worked. Then she'd be dead on her own terms.
If it didn't, at least she'd get that day at the beach, which would be one more pleasant thing to remember while she was stuck in the hospital, spewing out visions for the Agency.
Betraying others like herself, like she was bound to betray the baby she'd been seeing since early spring, the one that everyone wanted to know more about.