29 Jun 2015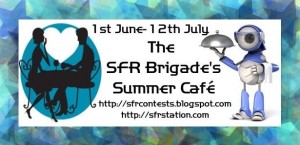 Welcome to the Summer Cafe blog hop, brought to you by the Science Fiction Romance Brigade. This week's theme is Supernova Hot, so expect spicy excerpts from sexy books. Please click the picture above for more information on all the lovely posts (many with recipes!) And read on for an excerpt from my new science fiction romance Thrill-Kinky (Chronicles of the Malcolm, book 1).
There isn't a lot of food talk in Thrill-Kinky. It's a fast and furious outer-space spy caper. As soon as the human heroine, space-freighter mechanic Rita, finds the gorgeous, winged Drax Jalricki–a covert operative whose mission was compromised–injured in a waste bin, things swirl out of control quickly. Rather than enjoying lovely meals (or even grabbing mediocre ones on the go), they're experiencing flyer chases between tall buildings, evasive tactics in the middle of a crowded alien "festival of love and desire", daring escapades and dangerous villains.
And having crazy, hide-in-plain-sight sex. Their first kiss might be a way of blending in with the crowd–at a festival that celebrates sexuality, a little snogging makes you inconspicuous–but Rita and Drax discover they have a quirk in common. They're both adrenaline junkies, "thrill-kinky" in 26th-century slang. Only in their case, it turns out to be an actual kink for sex in risky situations, not just a fondness for crazy flying and fast zipbikes.
But in keeping with the "cafe" theme, I'm going to give you a snippet of a quieter moment, when, at rare moment when no one's shooting at them, Rita and Drax try to have an actual date and deal with whether or not they actually have a future together:
"As much as you'd grace the dining room in that dress, we could get room service. I made you promises the other day that I'd very much like to keep, if you're still interested. The ceiling's not that high, but the grav-control is excellent."
"Interested, yes. Convinced it's a good idea, no." She stretched up and kissed him, not on the lips, but on the cheek that still felt like it bore a faint imprint of her hand. "So we'll eat in the restaurant and you tell me your story. Then we'll see about those other promises."
The restaurant might have been the most brilliant one on New Tokyo—certainly it was fancier than anywhere Rita would normally eat—but it was hard to pay attention to the food when simply watching Drax's mouth move was so fascinating. She ate. She even took a few notes on her com-pad so she could tell Mik about the meal later; he'd teased her when she'd let him know she'd be eating with Drax instead of joining the crew's celebratory dinner that her meal couldn't possibly be as good as the one they'd be enjoying, "but her company was tasty enough to make up for it". She knew the fish was incredibly fresh, and real, not synth-fish, which might be chemically identical, but didn't have the same texture no matter what they did in the lab. She recognized the preparations and presentation were upscale and refined. She knew the restaurant's décor was elegant and she realized, because there was something about it on the menu, that it reflected the traditions of the area of Old Earth where the ancestors of most New Tokyo residents originated.
Yet, none of that mattered. Not with Drax sitting across the table from her, holding her hand whenever he could.
Not with the story he unfolded.
I'm not going to share more of Drax's story. That gives away too much of the plot. But I am going to give you a bit of the hot stuff…
He stopped her words with a kiss that came close to stopping her brain as well. His wings and hands caressed her breasts. She gave herself up to the kiss.
She traced the lines and ridges of his muscled back. So different from anyone else she'd been with, because of the wings. So right. She'd only seen him fly for a few minutes, and that awkwardly, dragged down by injury, but those muscles told the story. The muscles and the wings, all those soft yet surprisingly stiff feathers covering still more muscle. He was so strong. He would be magnificent in flight. And soon, she'd be flying with him.
She made a strangled noise into his mouth as their tongues explored each other's mouths. No, not explored, ravaged, like early explorers pillaging a virgin planet, but with finesse rather than ignorance. Those wonderfully textured and surprisingly agile wingtips danced over her breasts. She couldn't remember the last time her nipples had felt like this, like tiny nubs of living fire.
She could remember the last time she felt this alive, but that was because it wasn't long ago. That awful, wonderful, nearly fatal but definitely magical day and night on San'bal. Only this was better because the odds were good it would happen again.
She hated to stop touching the wonder that was Drax's back. But there was so much more she wanted to explore. Wanted to find the hardness of his cock. Stroke it. Taste it. Guide it inside her. What size would he give her tonight? Not that it mattered, because he'd make it good. Perfect.
His hands moved off her breasts, but she barely had time to register disappointment. Drax raised her skirt to stroke her thighs and ass but not stroke her aching clit or fill her cunt, which was starting to feel as lonely as the vast emptiness of space.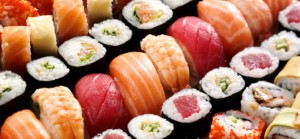 This is where I confess that while I'm a good cook who makes ambitious meals on a regular basis, I haven't made much Japanese food. Sushi, in particular, is as much art as food and as such I find it daunting. I can make delicious meals, but elegant-looking ones? Not so much. I lack the patience for elaborate presentation.
On the other hand, I have made this pretty and refreshing Scattered Sushi Rice Salad (recipe by Mollie Katzen, originally in the cookbook Still Life with Menu).  Still Life with Menu suggests, "Serve this special dish to someone you love. The message will be clear." I can imagine Drax, who's more sophisticated than Rita, recognizing this dish and ordering for her for that reason.
On New Tokyo, I'm sure some of the vegetables would be exotic ones native to that planet, unknown on Old Earth. But the local chefs will still use ginger and proper sushi rice. I can't imagine the original settlers leaving Old Earth without these important ingredients.
2 cups uncooked white rice (I've made it both with sushi rice and supermarket long grain rice. It's good either way)
2 1/2 cups water
2 to 3 tablespoons mirin (Japanese rice wine) or sherry
6 tablespoons unseasoned rice vinegar or cider vinegar
1/2 cup sugar (more or less, to taste–I prefer less)
1 1/4 teaspoons salt
6 tablespoons peanut or canola oil
1 egg
1 medium carrot, minced
1 small cucumber, peeled, seeded, and minced
2 scallions, minced (whites and greens)
1 to 2 cups fresh or frozen green peas (lightly steamed, if fresh. Just defrosted if frozen)
A few green beans, in 1/2-inch pieces and lightly steamed
A few snow peas, in half-inch pieces (note from TNR: I've always used snap peas because I grow them)
1 small yellow summer squash, minced and lightly steamed
3 to 4 tablespoons minced sushi ginger (available in Asian groceries)
3 tablespoons sesame seeds, lightly toasted
Rinse the rice in a strainer and put in a saucepan with the water and mirin or sherry. Bring to a boil, cover, lower heat to a simmer, and cook undisturbed until tender (10 to 12 minutes).
Remove rice from heat, uncover, and let stand another 10 minutes. Meanwhile, combine vinegar, sugar, and salt in a small bowl and stir until sugar dissolves. (Easier if you heat the vinegar first.)
Spread the rice in a long, shallow pan (like a 9 X 13-inch pan) and fluff it with a fork. Pour in the vinegar solution and mix gently. To help cool it down, you can fan it with a newspaper or a magazine.
Meanwhile, scramble the egg in a little of the oil. Add a splash more sherry if you like. Remove the egg to a plate, and cut into small pieces. Alternately, make the egg into a thin omelet, then slice into thin strips.
Add the egg, plus all remaining ingredients, to the rice and mix gently but thoroughly. Transfer to a serving bowl, and serve at room temperature or cold.