18 Aug 2014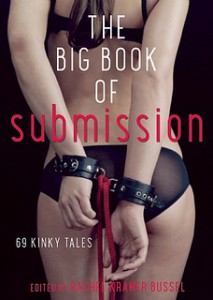 Welcome to today's stop on the Big Book of Submission blog tour.
If you visited any of the previous stops (you should; the whole schedule appears at the end of the post), you'll know this is subtitled 69 Kinky Tales and consists of very short stories on, you guessed it, themes of submission, kink, and dominance. There are some truly impressive stories in here, from both newly published writers and authors well known to fans of erotic fiction. Some of the stories are purely erotic fantasy, a moment of hot sex beautifully captured. Others manage to compress a lot of story into the short format. I really respect the writers who chose this path. It's the one I elected, and I know it's not at all easy.l
I can convey a sexy scenario in very few words indeed; I've written erotic flash fiction of 250-500 words. Getting readers hot and bothered in a super-short story and still giving them character development, at least in relation to how the characters interact sexually and romantically? Sure. But using the framework of BDSM and D/s to tell a more complex, even painful story in under 2,000 words, and still make it sexy? That was going to be more of a challenge.
And one to which I was determined to rise.
Luckily my brain cooperated with me, giving me an image of a bound woman with one beautiful breast and one survivor's scar where the other breast used to be. The rest of the story came to me in a white heat.
And then I spent a long time–far longer than the initial writing–making sure each of the 1,100 words in the story gleamed.
As Alexis led Jane to the chain web in the center of the still-empty dungeon and told her what she planned for the first play party since the surgery, Jane's heart threatened to burst out through her scarred chest. It took all her courage not to safeword or simply start a plain vanilla argument with her girlfriend and domme.
She used to love being on display, an object to be enjoyed by the eyes and roving hands of the other party guests. Loved the eyes on her. Loved Alexis's pride as people admired her sub. When Alexis reclaimed her, she'd been wet and eager to play hard.
But Jane had been beautiful then, her body lean and shapely and unscarred. A credit to her own commitment to fitness and healthy living—which had proved no match for genetics. A credit to Alexis, because at a public party, a sub's good looks reflected on the dominant who was with her or him.
And now Jane wasn't perfect. Not even average, but damaged.
The story encompasses fear and courage, the loving but terrified obedience of a submissive facing a challenge that, in the moment, seems as big as surviving cancer, and the special way a dominant who loves her submissive may show that love. And yes, there's hot kinky sex.
In a novel, it would have been…well, certainly not easy, but a challenge of a different sort. But I did it in 1,100 words.
And so did the other 68 writers in this book.
That's why you should check it out.
The tour:
August 1 Lusty Lady
August 2 Clitical
August 3 Robot Lovers Prey on the Lonely (Annabeth Leong)
August 4 BDSM Book Reviews
August 5 Blhippiechick Reviews
August 6 Reviews @ HedoVibes
August 7 Valerie Alexander
August 8 Lady Smut
August 9 Kitten Boheme
August 10 Jade A. Waters
August 11 Rose de Fer
August 12 Erzabet's Enchantments
August 13 The Gestalt Boudoir
August 14 The (Really) Naughty Corner
August 15 Tamsin's Superotica
August 16 Sex, Food, and Writing
August 17 L.C. Spoering
August 18 Teresa Noelle Roberts
August 19 Can't Talk podcast
August 20 M Marie
August 21 Corvidae Dreams
August 22 Septimus Reviews
August 23 Malin James
August 24 Inara Serene
August 25 D to the /s
August 26 Bitches n Prose
August 27 Property of Potter
August 28 Laila Blake
August 29 Louisa Bacio Love Knows No Bounds
August 30 Quixotic Orchid
August 31 Sex in Words
September 1 Jade Melisande
September 2 Ashley R Lister
Buy the book at
IndieBound (find it at your local independent bookstore)