9 Apr 2014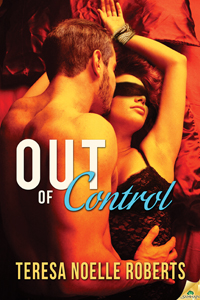 Read the whole book on 4/22!
In which our control freak hero learns he's going to have a hard time staying in control around our heroine.
Drake Matthews fumbled the front door open, cursing the doorbell's interruption to his train of thought.
A small, striking woman with crazy multicolored hair stood in his doorway. He stopped cursing. He'd get back on his train of thought, but he wasn't about to pretend he was upset to see a gorgeous woman on his porch, even at eight in the morning on Saturday. Even if she was a stranger and his brain was too lost in mathematics to figure out why she was there. He didn't remember an appointment. Then again, at this stage in the process of writing a paper, he might not remember his own birthday.
The woman spoke, her voice rich, marked with the flat vowels of a local country girl. "I'm here about the apartment on Craigslist. Jen Kessler. We e-mailed back and forth." Jen extended a small, ringless hand.
Drake took her hand and was shocked by how firm her grip felt considering how little she was. Small but not frail. Her arms were well muscled for someone her size, her legs not just pretty but strong-looking. She wore a green tank top and bright yellow bike shorts topped with a short black net skirt that looked like a child's ballerina costume. To complete the little-girl-in-costume effect, the skirt was printed with silver glittery stars. On someone else, the outfit would have looked stupid, but it worked for her, as if she was dressed up in honor of a beautiful day that felt more like June in Atlanta than mid-April in Ithaca, when the more typical weather was cold rain or wet snow.
He held Jen's hand a bit too long as he studied her, hoping that his gray-rimmed nerd glasses made it look like he was just socially awkward, not fascinated. Her nails were short and square, her hands rough, as if she worked with them a lot. Her eyes were the bright, clear green of spring leaves. Her chin-length red curls, streaked with Crayola yellow and orange that made her look like a living flame, were disheveled. Probably from biking here without a helmet, since he saw a bright blue Schwinn in the driveway, but no helmet attached to it or in Jen's hand. He had to fight the inappropriate urge to smooth that wild hair just to see how it felt, and an equally inappropriate urge to tell her she should wear a helmet.
Control yourself. She wasn't his to touch, wasn't his to direct. Wasn't even his friend. He could pretend to get a bit of fluff out of a friend's hair or bug her about her bad bike-safety habits. Jen was a complete stranger, and even if she wasn't, she might end up as his tenant, which probably ruled out becoming his sub. His cock hoped otherwise, but it would open the door to all kinds of drama, and Drake didn't like drama.
Want more? Out of Control releases on 4/22, but it's available on pre-order (at a special low price some places!) now.