26 Feb 2018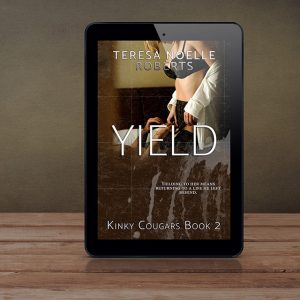 Gabe suppressed a shiver, and not because the room was chilly. It wasn't exactly warm, but he'd gotten used to old farmhouses and their constant drafts.
What he wasn't used to anymore was this place that combined anticipation and perfect peace. The cool air on his naked skin, the slight but blissful strain of kneeling, the hard, smooth floor under him, Mari's voice when she'd ordered him upstairs—the heat and strength and the sudden sense of rightness—conspired to stop the worried mental chatter about fires and work and the farm far more effectively than cooking had. And the cooking had worked pretty well.
Thoughts were running rampant in his brain, but this was enjoyable brain-chatter: images of pleasure and pain, of worshipping Mari under her generous commands, of suffering for her pleasure. There was a special kind of satisfaction in endurance, in giving a lady something she liked even when you didn't enjoy the act itself—but they weren't anywhere near that point.
They might be someday.
As soon as his brain went there, his cock sprang to attention.
Dark, delicious images flooded him, both acts he enjoyed, like a good caning or becoming a human footstool for a weary lady's rest, and the ones he feared and yet craved to experience simply to give the right person pleasure. Some of these unspeakable, delicious acts were undefined—they were whatever she might want, the Domme who'd demand everything from him, body, heart, and soul, in a way that he'd want no choice but to yield. He always suspected this woman might not exist outside his fantasies. Janice probably could have demanded everything from him, but she hadn't wanted to. But maybe Mari…
Right. Slow down there, Gabe. Janice left you a little raw and it's been way too long since you met a hot woman who was the right flavor of kinky.
Logic wasn't helping him. His mind was racing now, not just with images of what might happen in a few minutes but of a future it was far too soon to contemplate. His cock throbbed, a pearl of precome spilling out.
I'm going to make an ass of myself at this rate. She'll put her hand on my shoulder and I'll explode. That'll make a great impression.
***
Yielding to her means returning to a life he left behind.
What Boston lawyer Gabe Adamiak should do: sell his grandparents' farm ASAP and hurry back to his high-powered job and the Boston BDSM scene.
What he wants to do: stay in the country long enough to figure out if the lovely farmer up the road is the Domme of his dreams. As if.
What farmer Mari Lyndon should do: raise her goats and forget the kink scene. She's too old for hook-ups and she's given up on finding a submissive guy who's longing for the rural life.
What she wants to do: tie up her neighbors' hot city-boy grandson and jump his bones. Then order him to make dinner and if he says yes—keep him. Potentially forever. As if.
When a freak fire and an unexpected snow storm throw them together, they discover an explosive erotic connection. But what they share goes deeper than that. Gabe wants to belong to and serve the right woman as much as Mari wants to own and nurture the right man. But there's no way this could grow into a permanent relationship, with Gabe only in the area temporarily—and neither wants to settle for anything less.
When someone wants to scare Gabe back to the city (with a side-order of making Mari's life miserable), Gabe makes arrangements for a longer stay just to spite their enemy. Thanks to Mari, he's enjoying the country life he fled as a teenager. But can he give up his life in Boston forever? Mari doesn't dare to ask. But when the truth about their tormenter comes out, Gabe has to make a decision that could change their lives for better or worse.
Warning: Wacky relatives. Attack geese. A truck called Lou-Lou. And a smoking hot submissive guy willing to give his all to a kinky country cougar.
Pre-order now at your favorite ebook vendor. Out March 1, 2018–and the paperback's coming soon!