4 Mar 2014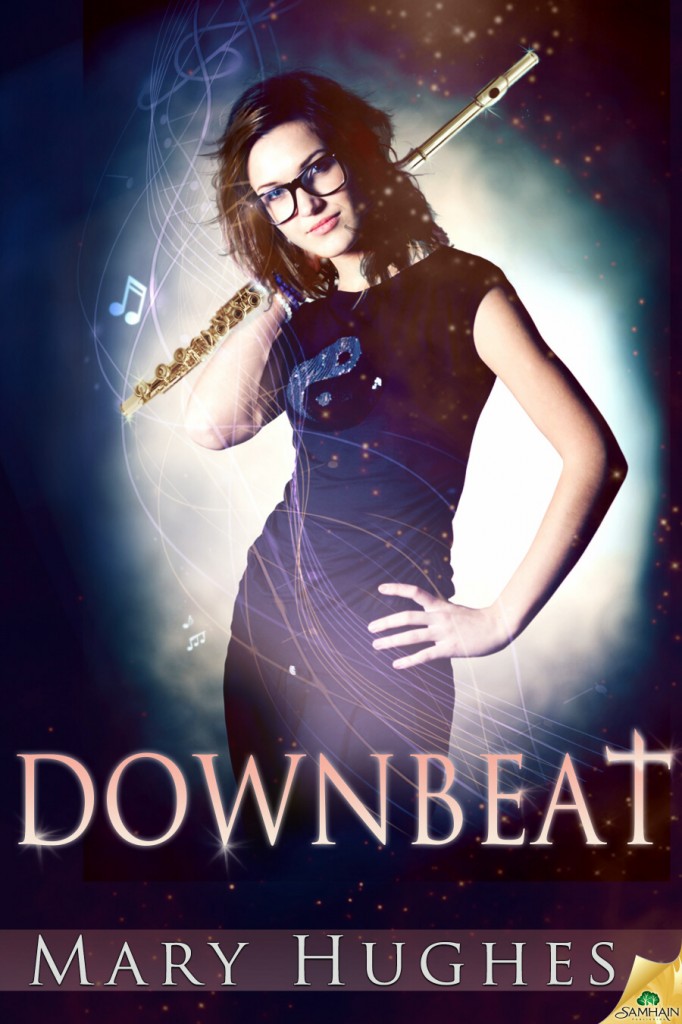 I'd like to extend a warm welcome to my fellow Samhain author Mary Hughes, whose newest book Downbeat (Biting Love, Book 7) releases today. It's a vampire book with a few twists, a musical theme, and…. cheese balls.  (You'll have to read it to find out more about that.)
Mary Hughes is a computer consultant, professional musician, and writer. At various points in her life she has taught Taekwondo, worked in the insurance industry, and studied religion. She is intensely interested in the origins of the universe. She has a wonderful husband (though happily-ever-after takes a lot of hard work) and two great kids. But she thinks that with all the advances in modern medicine, childbirth should be a lot less messy. Find out more about her, and about the Biting Love series and her other books, at http://www.maryhughesbooks.com/index.html
Here's a little more info, and a saucy excerpt that's safe for work (mostly) but hints at a lot of naughtiness to come.
Striking the right note could shatter more than their hearts.
After an attack that slaughtered his family, vampire Dragan Zajicek walled off his heart and went on a sixteen-hundred-year rampage with the bad boys of history.
Now a rock star of the concert podium and master freelance spy, he's taken the baton for a small orchestra near Chicago to investigate rumors of a monstrous, undefeatable vampire dubbed the Soul Stealer.
But it's the lovely, unassuming Raquel "Rocky" Hrbek who mesmerizes him from the first touch of her luscious lips on her flute.
Rocky, a shy shadow scarred by middle school cruelty, is mystified as to why core-meltingly gorgeous Dragan would notice a mouse like her. As his stolen kisses draw her dangerously close to the edge of her carefully constructed comfort zone, he exposes her secret—she's investigating the monster herself.
As their quest draws them closer together, the monster zeroes in on the woman Dragan's rebellious heart tells him is his mate. Now they must find a way to destroy the indestructible before Rocky is utterly consumed. And Chicago is bathed in the blood of innocents.
Warning: Contains a master of seduction and symphonies, an awkward and innocent flutist, small-town humor, heart-stopping action, and an exodus to Iowa. Oh, and the cheese balls are ba-a-ack—and deadlier than ever.
http://www.amazon.com/Downbeat-Biting-Love-Mary-Hughes-ebook/dp/B00GN98BV2/
http://www.barnesandnoble.com/w/downbeat-mary-hughes/1117398262?ean=9781619218758
http://store.samhainpublishing.com/downbeat-p-73244.html
Enjoy the following excerpt for Downbeat:
I tried to see it from his point of view. The man wanted help getting around. A few directions, not my soul. Simple neighborliness would do. I breathed deep, and managed to rasp out, "Sure. No problem, Mr. Zajicek."
He smiled and slipped his arm around mine. "Dragan, please." His hip bumped against my side as we walked.
My respiration rate shot through the roof. I gritted my teeth. Simple neighborliness, yeah, right. Like your basic neighborhood raging inferno. "Okay. First names. I'm Rocky."
"Rocky? That's a boy's name."
"It's a nickname," I admitted.
"Ah. And your real name?"
Yes. My "real" name.
My friend, Nixie Emerson, once told me names have power. In her case, she went by her kicky middle name instead of "Dietlinde", her dull-as-dust first. For her, that was appropriate. Nixie was short and punk and smart as a whip—and as smart-mouthed too, though she reined it in around her new baby.
In my case though, my "real" name was not appropriate. Anti-appropriate, in fact. My mom named me Raquel, after Raquel Welch, the sex-goddess of the sixties. So while Nixie's name was right and good, mine was a joke. And considering my nega-love-life, a rather nasty one at that. "Rocky's good enough, Mr. Zajicek."
"Dragan," he murmured, somehow pulling me closer. The heat of his body licked flame-like up my side. I hissed and shifted my flute bag between us, but as a defense it backfired. Zajicek simply plucked the bag from my hands. "Shall I carry that?"
"You don't have to. No, wait—"
"Nonsense. It is quite light." He shifted my bag onto his own shoulder, not the one between us. The strap wrapped itself over his muscles like a second skin, and I swear it moaned happily.
Then Zajicek curled one hand around my waist and pulled me so close I could barely breathe. I tried to, really I did. But every tentative inhale brought the scent of him, cotton and sandalwood and burning masculinity. Every movement of my ribcage scraped the side of my breast against his arm, until I was trembling with the need to rub blatantly against him. Every breath drew cool air over my tongue…yikes, I was lolling like a dog in heat.
My glasses fogged up, and I stumbled again.
Both Zajicek's arms went around me. I felt incredibly clumsy and stupid, making him rescue me continually from my own feet. "I'm so sorry, Mr. Zajicek—"
"Dragan," he murmured, cupping my chin and lifting my face for another soft kiss. His lips touched mine, his mouth moving in tiny circles as if to warm my skin. He didn't need to. I was plenty warm already—and a little buzzy.
"You taste wonderful." His mouth opened and his tongue teased the seam of my lips.
I jumped at the touch but Zajicek held me, so securely I relaxed into his arms. It seemed to be some sort of cue for him to lick me and slide his tongue between my lips, encouraging me to part them.
He asked so nicely, with tiny hot licks. So I did.
The instant my mouth opened he devoured me. His mouth slanted over mine and his jaw dropped. Heat rushed in. I gasped. Shocked and a little scared, I fell back, but he stepped with me, wrapped his arm around my back and trapped me good. He had to bend quite a ways to do it.
My back arched like a bow, my breasts crushed to his chest, my hips to his thighs. Something stirred against my belly, sending a jolt shearing through me. My mouth tingled and my breasts tingled and I was getting really tingly between my legs.
I slid my hands between us to try to wedge open some space. All I succeeded in doing was fitting my palms to the hardest pectorals in the world.
The tingling between my legs was starting to drive me insane.
Zajicek's mouth left mine to trail licks and nibbles down my jaw to my throat. He nuzzled me there, an odd dark rumble coming from his chest, almost a lion's purr. "You smell divine. Ah, to taste you fully." His tongue rasped over my pulse.
Somewhere along the way his hand had found my breast and was kneading and cupping while he sucked gently on the tender skin of my neck until my head spun.
Then his fingers found my raised nipple and plucked.
A thousand Christmas lights went on in my head. I shrieked.