27 Aug 2014
Sophie Mouette and Little Kisses Press have been busy lately. Not resting on their laurels after releasing Possessed, Undressed, and In a Mess earlier in the month (partly because laurels are prickly and wouldn't be good to rest on), they've released three sexy stories by Sophie for your e-reading pleasure.  Great tastes of Sophie!
And because Sophie likes diversity, two of the stories are lesbian-themed and one is heterosexual.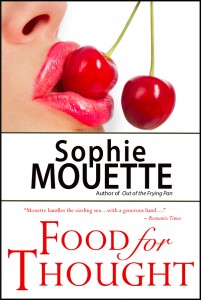 Food for Thought
Phenomenal sex… Susannah and Liane find themselves achingly compatible in the bedroom, but in the kitchen, their vastly opposing dietary restrictions cause the wrong kind of friction. Can these two sexy lesbian lovers find a middle ground and keep their delicious love alive?
"Food for Thought" originally appeared in Best Lesbian Love Stories 2009 (Alyson Press, 2008).
Amazon / Barnes & Noble / Kobo / Smashwords /All Romance eBooks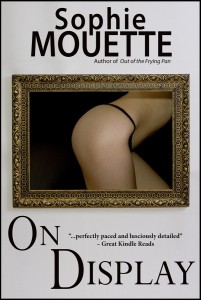 On Display
Art gallery owner Monique desperately wants to impress Mrs. Farnsworth, her biggest potential donor and an incredibly sexy older woman. The display of sexually provocative lesbian photography inspires Mrs. Farnesworth to donate money…and the display of Monique herself inspires an evening of lust. Great Kindle Reads calls "On Display" "perfectly paced and lusciously detailed."
"On Display" originally appeared in Where the Girls Are: Urban Lesbian Erotica (Cleis Press, 2009) and was reprinted in Coming Together: Girl on Girl charity anthology (Coming Together, 2013).
Amazon / Barnes & Noble / Kobo / Smashwords / All Romance eBooks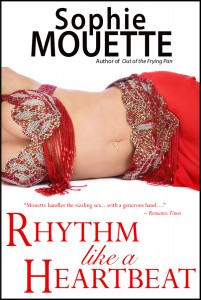 Rhythm Like a Heartbeat
Kayla's last boyfriend left her feeling self-conscious about her body, but a bellydance class—and, more importantly, sexy drummer Sandor—teaches her how her curves are her power…and how explosive the combination of sex, dance, and music can be.
"Rhythm Like a Heartbeat" originally appeared in Best Women's Erotica 2007 (Cleis Press, 2006).
Amazon / Barnes & Noble / Kobo /Smashwords /All Romance eBooks